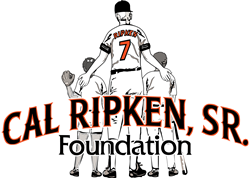 "When the idea of building these million-dollar multi-purpose turf fields came about, our board member and former board chair, Senator Frank Kelly, was instrumental in motivating us to achieve the momentous feat of building 50 YDP's in five years,"
BALTIMORE (PRWEB) December 22, 2020
The Cal Ripken, Sr. Foundation (CRSF) today announced the opening of its 100th Youth Development Park (YDP), BGE Field at Reedbird Park powered by Kelly Benefits. The park is slated for completion this spring. Located in South Baltimore, BGE Field will provide a safe place to play & learn for children living in the underserved community of Cherry Hill and other South Baltimore neighborhoods. The field is an 83,000 square foot synthetic surface sports field and will be a part of the larger redevelopment being led by Baltimore City Recreation and Parks (BCRP).
The field, being developed by the Cal Ripken, Sr. Foundation, will be multi-use and will support soccer, football, lacrosse, baseball and softball, and will include lights and bleachers. Although this initiative is the brainchild of the Ripken Foundation, it could not come to fruition without the additional support of Calvin Butler, who is a powerful voice in the fight for social justice and an influential member of the Board of Directors at CRSF, as well the support of South Baltimore Gateway Partnership, BGE, KELLY Benefits, the Baltimore Ravens, Jay and Patty Baker, Under Armour and Weller Development Company.
"After spending time coaching youth sports on rundown fields, creating these beautiful, state-of-the-art sports fields in the cities that need them most is truly a dream come true," said Cal Ripken, Jr., co-founder of the Cal Ripken, Sr. Foundation. "What makes this even more powerful is the fact that we are opening our 100th field, a milestone we are all so proud of, right here in Baltimore where my career in sports took place."
The idea of the Youth Development Park program came to fruition through Cal Ripken Jr.'s experience coaching on fields that were less than ideal. The YDP's created by the CRSF are multi-purpose artificial turf fields which allow for easy upkeep. Each field costs in excess of $1M and are developed through the support of other local youth-serving organizations. The CRSF identifies the site of each field, contributes funds, leads fundraising efforts, builds the park from start to finish, and gifts the field to a youth-serving organization in that community. Although the field is ultimately cared for and operated by a partner organization, the CRSF remains engaged and provides curated programming for each location.
"When the idea of building these million-dollar multi-purpose turf fields came about, our board member and former board chair, Senator Frank Kelly, was instrumental in motivating us to achieve the momentous feat of building 50 YDP's in five years," said president & CEO of the CRSF Steve Salem. "This seemed impossible at the time, but what it did was set our sights much higher than we had ever thought possible. We applaud Senator Kelly for his groundbreaking vision and thank BGE and Calvin Butler for their ongoing generosity, leadership and support, which has allowed us to do great work in communities all over the country."
Upon completion and opening, the CRSF will host their impactful 'Badges for Baseball' program at the site of BGE Field at Reedbird Park, which allows local law enforcement officers to coach youth baseball teams, not only encouraging safe and healthy activities for local children, but promoting a positive relationship between law enforcement officials and youth.
Over the last decade alone, the Cal Ripken, Sr. Foundation has raised and gifted back over $117M to communities across the country through the Youth Development Park program. To learn more about the slew of programs put on by CRSF, including YDP, STEM and more, visit http://www.ripkenfoundation.org.
About the Cal Ripken, Sr. Foundation
Since 2001, the Cal Ripken, Sr. Foundation has worked to implement youth development programs and create parks that directly address the problems facing at-risk youth in distressed communities across the country. Inspired by one of the most iconic baseball families, the Ripkens created the Cal Ripken, Sr. Foundation to honor the legacy of its family patriarch, longtime coach, and mentor, Cal Ripken, Sr. The Ripken Foundation uses sports-themed activities to bring police officers, youth partners and underserved kids together on a level playing field to learn invaluable life skills.
The Ripken Foundation's Youth Development Park Initiative creates clean, safe places for kids to play on multipurpose, synthetic surface fields that promote healthy living in an outdoor recreational facility. Since 2009, the Ripken Foundation has 100 completed parks across the country in 26 states and DC. In 2019, the Ripken Foundation impacted over 1.5 million kids nationwide through its Youth Development Park and mentor programs. For more information, visit http://www.RipkenFoundation.org. Follow @CalRipkenSrFdn on Facebook, Twitter and Instagram.
About BGE
BGE, founded in 1816 as the nation's first gas utility and headquartered in Baltimore, is Maryland's largest natural gas and electric utility. The company's approximately 3,200 employees are committed to safe and reliable energy delivery to more than 1.3 million electric customers and more than 680,000 natural gas customers in central Maryland. In the J.D. Power 2017, 2018, and 2019 Electric Utility Business Customer Satisfaction Studies SM BGE was ranked Highest in Customer Satisfaction with Business Electric Service in the East among Large Utilities. In the J.D. Power 2018 and 2019 Gas Utility Business Customer Satisfaction Studies SM BGE was ranked Highest in Customer Satisfaction with Business Natural Gas Service among utilities in the East Region. BGE is a subsidiary of Exelon Corporation (Nasdaq: EXC), the nation's leading competitive energy provider.
Connect with BGE on Facebook, Twitter, Instagram, and YouTube, and engage with the latest BGE stories on bgenow.com. Baltimore Gas and Electric Company (or "BGE") received the highest score in the East Region of the 2019 Gas Utility Business Customer Satisfaction Study and the East Large Segment of the 2019 Electric Utility Business Customer Satisfaction Study of gas and electric utility customer satisfaction among business customers. Visit jdpower.com/awards.
About KELLY Benefits
KELLY was founded in the home of Janet and Frank Kelly in 1976. As small businesses were having difficulties securing affordable health care benefits, there was a growing need for alternative sources of quality benefit solutions. The Kellys' vision was to form a company that would bring together small businesses through common industry, trade or professional associations, and form larger groups that could provide access to better rates and benefits. Learn more about KELLY Benefits by visiting https://kellyway.com.
Contact:
John Maroon
Maroon PR/CRSF
443-690-8943
John@MaroonPR.com
Sarah Orzach
Maroon PR/CRSF
443-978-1833
SOrzach@MaroonPR.com