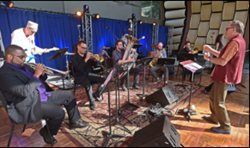 This agreement provides an important avenue for LACC music students to continue to develop their artistic voice while also earning a BFA.
LOS ANGELES (PRWEB) March 04, 2019
California Institute of the Arts (CalArts) announced that it has signed a student transfer agreement with Los Angeles City College's Herb Alpert Music Center. The agreement will offer LACC music students who are interested in completing a four-year undergraduate degree a clear pathway to transfer to the Herb Alpert School of Music at CalArts. Both music schools at CalArts and LACC are generously supported by The Herb Alpert Foundation and are named for the renowned Los Angeles-based musician and artist, Herb Alpert.
This agreement is one component of a larger vision of access to higher education, and to arts education in particular, building connections and pathways between pre-college arts programs, community colleges, and four-year degree granting institutions like CalArts.
"CalArts strongly believes that the artist plays a pivotal role in our society, as culture-maker, as truth-teller, and as a visionary whose work often shows us a better way forward," says CalArts's president, Ravi S. Rajan. "This agreement provides an important avenue for LACC music students to continue to develop their artistic voice while also earning a BFA."
The new transfer agreement provides priority consideration for LACC music students and offers a clear matrix of classes that are transferable to CalArts. In addition, LACC and CalArts's music faculty have worked together to align the curricula and will continue to work together to identify and prepare LACC students who are most likely to successfully transfer into CalArts. There are close connections between the two faculties and, indeed, some of the LACC music faculty are CalArts graduates. Students currently enrolled in the LACC Herb Alpert Music Center are regularly invited to attend concerts at CalArts and visit the campus. CalArts music ensembles perform at LACC thereby increasing the sense of connection and affinity between the two institutions. Likewise, CalArts academic advising and financial aid staff visit LACC regularly to help inform interested transfer students. Ongoing communication between the two institutions about the progress of LACC transfer students is an important factor in providing the necessary preparation and support during this transition.
"We are thrilled by this agreement, which gives Music Academy students in the Herb Alpert Music Center—who are already receiving full scholarships for tuition and private lessons through an historic $10.1 million endowment gift to LACC from The Herb Alpert Foundation in 2016—the potential to enter one of the most prestigious music programs in California," says Professor Christine J. Park, chair of the music depart at LACC's Herb Alpert Music Center.
David Rosenboom, dean of the Herb Alpert School of Music at CalArts, was also pleased with the new transfer agreement. "Part of what makes our music program so successful is the broad range of musicians and the different perspectives they bring to CalArts," says Rosenboom. "The LACC transfer agreement will continue this tradition of strengthening our program through musical diversity."
Applicants from LACC will need 60 units of baccalaureate level work to transfer into CalArts, including 22 units of general education courses and, like all accepted students, they must complete a Music Theory & Skills Placement Examination during their first week at CalArts. Placement into specific music courses will be determined by the proficiency demonstrated on these exams.
The agreement was finalized during the 2018/19 academic year, meaning LACC music students who wish to pursue a four-year BFA at CalArts can already begin looking into the necessary steps and requirements to take advantage of the new agreement.
About California Institute of the Arts
CalArts has set the pace for educating professional artists since 1970. Offering rigorous undergraduate and graduate degree programs through six schools—Art, Critical Studies, Dance, Film/Video, Music, and Theater—CalArts has championed creative excellence, critical reflection, and the development of new forms and expressions. As successive generations of faculty and alumni have helped shape the landscape of contemporary arts, the Institute first envisioned by Walt Disney encompasses a vibrant, eclectic community with global reach, inviting experimentation, independent inquiry, and active collaboration and exchange among artists, artistic disciplines, and cultural traditions.
About Los Angeles City College
Established in 1929, Los Angeles City College is one of the oldest of the California Community Colleges. Located in the heart of Hollywood, LACC provides a dynamic innovative learning environment offering more than 100 vocational and professional programs including degrees, transfer programs and certificates to more than 18,000 students. In the past decade, a total of 6,651 students have transferred to four-year colleges and universities, including 4,040 students attending Cal State universities and 1,086 students transferring to UC campuses. Los Angeles City College is home to one of the most vibrant and diverse campuses in the country. The campus provides a wide range of professional and vocational programs at a fraction of the cost of state and private colleges. LACC provides students and adult learners vital pathways to more advanced education and enhanced employment. In 2019, LACC will celebrate its 90th anniversary.
About The Herb Alpert Foundation
The Herb Alpert Foundation envisions a world in which all young people are blessed with opportunities that allow them to reach their potential and lead productive and fulfilling lives. Over the past few years, the Foundation has focused on core areas, such as "The Arts," a broad category that includes arts education, a focus on jazz, and support to professionals. This also includes programs that seek to use the arts to help meet the needs of underserved youth and to help build competencies that will enable them to become successful adults. The other core area is "Compassion and Well-Being," which celebrates the positive aspects of human psychology and seeks to bring more empathy and compassionate behavior in to our society. Please note: the Foundation does not accept unsolicited proposals.