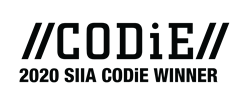 "Being the leader in helping large financial organizations manage market data, we are excited about the innovation the team has shown to create the Index License Manager product for an underserved category."
NEW YORK (PRWEB) May 21, 2020
Calero-MDSL, a leading provider of Technology Expense Management (TEM) and Market Data Management solutions, today announced that their Index License Manager (ILM) product has been named the Best FinTech Solution of 2020 as part of the annual SIIA CODiE Awards. The prestigious CODiE Awards recognize the companies producing the most innovative business technology products across the country, and around the world.
"We're excited that the judges saw us as the leading platform against some quality competition in the category to have the best solution for financial technology," said Charles Layne, Chief Executive Officer of Calero-MDSL. "Being the leader in helping large financial organizations manage market data, we are excited about the innovation the team has shown to create the Index License Manager product for an underserved category. It's great seeing their dedication to the industry paying off with this award recognition from SIIA."
Index licensing fees have skyrocketed through valuation-based fee models that increasingly benefit index providers. The ILM platform reduces manual processes for both the buy-side and sell-side, automates reporting capabilities and vendor declarations, improves cost allocation methodologies (e.g. to funds), and helps conform with recently enforced benchmark regulations and IOSCO's Principles for Financial Benchmarks. The centralized database contains index data licenses, benchmark licenses, reporting licenses, and all other index license types, with an intuitive user interface developed specifically for index license management. The result is an informed and complete holistic dashboard view of an organization's enterprise-wide licensing with all index providers.
The Software & Information Industry Association (SIIA), the principal trade association for the software and digital content industries, announced the full slate of CODiE winners during an online winner announcement earlier today in light of the COVID-19 pandemic.
The SIIA CODiE Awards are the industry's only peer-reviewed awards program. The first-round review of all nominees is conducted by software and business technology experts with considerable industry expertise, including analysts, media, bloggers, bankers and investors. The scores from the expert judge review determine the finalists. SIIA members then vote on the finalist products, and the scores from both rounds are tabulated to select the winners.
"Congratulations to this amazing group of 2020 Business Technology CODiE Award winners," said SIIA President Jeff Joseph. "These trying times have underscored the importance of innovative technologies like never before. The products and services we honor today connect us to colleagues and customers, ensure business practices move forward, provide new insights from data, and create new jobs and market opportunities. They represent the best of high-impact, outcome-focused innovation."
Details about the winning products can be found at https://www.siia.net/codie/2020-Winners
About Calero-MDSL
Calero-MDSL is a leading provider of Technology Expense and Market Data Management solutions designed to provide clarity, control, compliance and cost savings. With a deep commitment to innovation and customer service, Calero-MDSL partners with enterprises to provide a unified expense management platform that supports Telecom Expense Management, Managed Mobility Services, the Internet of Things and Financial Market Data Management. Calero-MDSL has thousands of customers in over 50 countries worldwide, including corporations, universities, financial institutions and government agencies. Learn more at http://www.calero.com or http://www.mdsl.com.
About the SIIA CODiE™ Awards
The SIIA CODiE Awards is the only peer-reviewed program to showcase business and education technology's finest products and services. Since 1986, thousands of products, services and solutions have been recognized for achieving excellence. For more information, visit siia.net/CODiE.