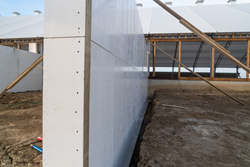 "Prefabricated construction, in combination with advances in material science, presents a tremendous opportunity for the construction industry to start using sustainable materials that close the productivity gap, improve building safety, increase building performance.
CALGARY, Alberta (PRWEB) October 27, 2020
ZS2 Technologies, an emerging building technology company in Calgary, Alberta, was granted the Solar Impulse Efficient Solution Label for their magnesium oxy-sulfate TechPanels following an assessment performed by external independent experts and based on verified standards.
It's joining the #1000solutions challenge, an initiative by the Solar Impulse Foundation to select solutions that meet high standards in profitability and sustainability and present them to global decision-makers to fast-track their implementation.
"We're so proud to be joining companies from around the world that are pushing the boundaries of technology and material science to create products that are better for people and the planet," says Scott Jenkins, co-founder and CEO of ZS2 Technologies.
ZS2 Technologies develops and manufactures advanced building technologies including proprietary fire-rated, non-toxic, low-carbon cementitious building materials and prefabricated panels which provide customers with cost certainty, accelerated construction timelines and lower building operating costs.
ZS2 TechPanels are prefabricated structurally insulated panels (SIP) utilizing ZS2 TechBoard.
They are fire resistant, have no off-gassing, are mold resistant, and are a thermally superior sustainable construction solution.
To receive the Solar Impulse Efficient Solution Label, ZS2 TechPanels were thoroughly assessed by a pool of independent experts according to five criteria covering three main topics: Feasibility, Environmental, and Profitability. All labelled solutions are part of the #1000solutions portfolio that will be presented to decision-makers in businesses and governments by Bertrand Piccard, Chairman of the Solar Impulse Foundation. The aim of this initiative is to encourage the adoption of more ambitious environmental targets and fast-track the implementation of these solutions on a large scale.
"Frequently, traditional construction builds face extended timelines, cost overruns, skilled labour shortages, quality issues and barely meet increasing environmental standards," says Dr. Doug Brown, co-founder and Chief Technology Officer of ZS2 Technologies. "The adoption of prefabricated construction, in combination with advances in material science, presents a tremendous opportunity for the construction industry to start using sustainable materials that close the productivity gap, improve building safety, increase building performance and generate significant economic returns."
About the Solar Impulse Foundation
The Solar Impulse Foundation is dedicated to accelerating the implementation of clean and profitable solutions. Moreover, the Foundation is helping decision-makers in business and governments to achieve their environmental targets and adopt more ambitious energy policies, which are necessary to bring these solutions to market.
http://www.solarimpulse.com
About ZS2 Technologies
ZS2 Technologies is innovating today, for a better planet tomorrow. Their mission is to research and accelerate the development and adoption of construction technologies which are stronger, safer and healthier for people and our planet. They're developing advanced building technologies including proprietary fire-rated, non-toxic, low-carbon building materials, and prefabricated panels which provide cost certainty, accelerated construction timelines, and lower building operating costs.
http://www.zs2technologies.com