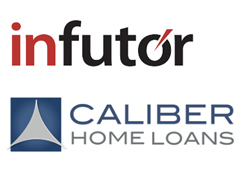 Through this partnership, we will convert leads into loans and deliver a better and more streamlined experience for consumers who wish to purchase or refinance their homes - Sanjiv Das, CEO of Caliber
OAKBROOK TERRACE, Ill. (PRWEB) May 19, 2020
Caliber Home Loans, one of the largest mortgage companies and among the fastest growing lenders in America that services the majority of loans, today announced that it has partnered with Infutor, the consumer identity management expert. By leveraging Infutor's ID Max solution, Caliber will improve its loan application process to increase speed and streamline applications as part of its ongoing commitment to enhancing customer service and streamlining data-based decision making.
"We are delighted to partner with Infutor and leverage their identity resolution services to improve the quality of our customer leads. Through this partnership, we will convert leads into loans and deliver a better and more streamlined experience for consumers who wish to purchase or refinance their homes," said Sanjiv Das, CEO of Caliber.
Infutor's ID Max will enable Caliber to score, complete and enhance its current lead data, enhance older portfolio leads with up-to-date address and contact info and complete partial online applications. Access to Infutor's deterministic and probabilistic data will help Caliber better understand, route and convert leads. Infutor's robust identity graph is designed to help marketers enrich customer profiles and enhance segmentation for more personalized interactions and increased conversions.
With a single consumer data point, including name, address, phone, mobile or email, ID Max instantly scores and delivers complete identity data on each inbound Caliber consumer as well as attribute enhancements that enable personalized profile development.
"Infutor is excited to help Caliber leverage identity resolution to accelerate its speed to lead, improve customer value and enhance their lead analytics for data-driven decisioning," said Gary Walter, Infutor CEO. "With credit scores at an all-time high, speed to lead helps mortgage marketers maximize and prioritize this unprecedented pool of qualified candidates."
About Caliber
Caliber Home Loans, Inc. is a privately-held financial services company with headquarters in Coppell, TX. The company is an approved Seller/Servicer for both Fannie Mae and Freddie Mac, an approved issuer for Ginnie Mae and is an approved servicer for FHA, VA and the USDA. The company carries multiple servicer ratings from Standard & Poor's, Moody's, Fitch and DBRS. To learn more about Caliber, visit http://www.caliberhomeloans.com.
About Infutor
Infutor is the expert in data-driven consumer identity management. The company is solely focused on enabling brands to instantly gain access to the most complete and accurate information about consumers, exactly when they need it, to make informed marketing and risk mitigation decisions. Infutor's mission is to deliver solutions that accurately identify consumers before, during and in-between engagements, giving brands a secure, privacy compliant foundation to improve inbound engagement and outbound omnichannel marketing reach, and to minimize losses due to fraud and non-payment. Infutor acquired Ruf Strategic Solutions in 2018 for its extensive suite of customer analytics that aid marketers' data-driven decisions. Led by information industry veterans, Infutor is a privately held company founded in 2003 with strategic investments from Norwest Venture Partners. Infutor is headquartered in Oakbrook Terrace, Ill. For more information, visit http://www.infutor.com.