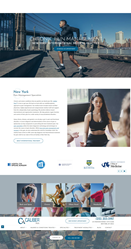 I am truly dedicated to helping my patients decrease pain, improve mobility and increase their overall quality of life. Being recognized by Find Local Doctors as a 2020 Top Patient Rated Doctor is such a huge honor, says Dr. Michael Fakhry
NEW YORK (PRWEB) October 09, 2020
Caliber Pain is New York City's leading pain management practice, specializing in customized solutions for musculoskeletal pain and mobility issues. These board-certified physicians, led by Dr. Michael Fakhry, employ a multidisciplinary approach combined with the latest non-surgical, evidence-based interventional procedures at their state-of-the-art AAAHC accredited facility in Manhattan. Caliber Pain has gained the attention of Find Local Doctors for the consistent, exceptional reviews they have received from patients. An easy-to-navigate online directory, Find Local Doctors helps consumers connect with local physicians who are highly-qualified and reputable.
Caliber Pain offers interventional treatments and regenerative medicine for a wide variety of injuries and pain issues and are committed to using a multidisciplinary approach to treating patients. They focus on each individual patient's needs and goals, from restoring simple mobility issues to the relief of chronic and complex pain conditions. The medical team creates well-rounded treatment plans that include multiple disciplines and procedures, combining injection therapy such as PRP and STEM cell regenerative treatments), ketamine infusions, physical therapy, nerve blocks, spinal cord stimulation and other options to ensure patients have short and long-term pain management. The experienced specialists at Caliber Pain utilize the latest medical technology and work closely with patients, from the initial diagnosis to mapping out an effective treatment program. Many reviews of this practice have mentioned the highly knowledgeable, compassionate staff and the attentive care they received.
"I am truly dedicated to helping my patients decrease pain, improve mobility and increase their overall quality of life. Being recognized by Find Local Doctors as a 2020 Top Patient Rated Doctor is such a huge honor," says Dr. Michael Fakhry
More about Dr. Michael Fakhry:
Dr. Michael Fakhry is an interventional pain management specialist who is double board-certified in anesthesiology and pain medicine. Dr. Fakhry graduated from the accelerated BA/MD joint program with Rutgers University and Robert Wood Johnson Medical School. He then completed his residency in anesthesiology at NYU Medical Center in Manhattan. Following his residency, he completed his fellowship in interventional pain management at NYU where he trained at both academic and public hospitals. Dr. Fakhry is a leader in his field and has published research in numerous medical journals and presented at national and international conferences.
Caliber Pain is located at 737 Park Avenue 1C in New York, NY, and can provide a same day diagnosis and interventional pain treatments. Call (212) 203-5987, or visit http://www.caliberpain.com today to schedule your appointment for effective pain management.