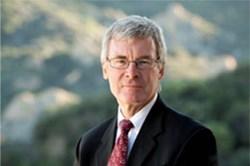 We keep the site packed with current information that is pertinent to entertainment matters and we use extensive visual cues to make it easy to navigate.
Santa Monica, CA (PRWEB) November 01, 2013
California Entertainment Lawyer Jon Pfeiffer released a new website. It's netted international media inquiries, confirming the departure from websites of last century.
Known for representing high-profile show business clients in precedent-setting cases like Happy Days vs. CBS (Superior Court of the State of California, CASE NO. 459841), Pfeiffer, whose practice is headquartered in Santa Monica, wanted a website that would resound with potential clientele in niche entertainment industry, a site that made the point that Pfeiffer is an industry expert and understands show business.
"I looked at the sites for the Top 100 law firms in California and they were all pretty much the same cookie-cutter design," Pfeiffer said. For inspiration, Pfeiffer looked at award-winning sites for movie studios, television networks, and production companies—even the White House site—but they all looked too busy to him. "I took some ideas I liked from them and came up with a cleaner design I that would work for me," he said. "I wanted my site, http://www.pfeifferlaw.com, to be crisp, clean and content-rich."
Working with Denver-based web development company Unleaded Software, Pfeiffer built a site that is contemporary, sophisticated and loaded with valuable content. The homepage has a concise 20-word recap of Pfeiffer's experience and areas of expertise. Visitors select from three tabs to content sub-pages that present Pfeiffer's firm information in the way that online readers best digest it. "We keep the site packed with current information that is pertinent to entertainment matters and we use extensive visual cues to make it easy to navigate," Pfeiffer summarized the site architecture.
Following the site's initial soft launch, Pfeiffer emailed 1,500 notices of his new site to his closest business contacts. The feedback was overwhelmingly positive. "Besides telling me what they liked, I had several people say they liked what it was not," Pfeiffer says. "That validated my keep-it-simple concept."
By making the site content-rich and keeping the content fresh, the site also gets very high rankings on search engines, consistently ranking near the top when people search for entertainment law topics.
"This is the third site our firm has built for Jon Pfeiffer in 16 years," said Unleaded President Jarod Clark. "Jon is atypical of most professional services providers in that he has always understood the power of the internet. In the early years of the internet, while some legal entities eschewed the web as being too radical a departure from the tradition of word-of-mouth references, Jon was already leading the electronic curve. His presence on the World Wide Web has always been distinctive compared to other legal firms. The message he sends clients and potential clients is that he's a leader in the practice of entertainment law and that he owns the kind of information that will help clients win their cases. That's what a smart attorney should communicate. Jon's mastered the message."
As proof that the site's optimization is working, Pfeiffer took several interesting calls from national and international media following the launch. "A reporter from Reuters called me for comments about the Michael Jackson estate's lawsuit against concert promoter AEG," Pfeiffer says. "He said he found me on the Internet."
Pfeiffer also says he got calls from clients and colleagues after the launch saying that they didn't realize he handled one type of case or another. "It's remarkable what a good website that's properly marketed can do," Pfeiffer says. "I couldn't be more pleased."
--------
Jon Pfeiffer is an entertainment trial attorney who specializes in business and entertainment law. He is also an adjunct professor at the Seaver College of Letters, Arts and Sciences at Pepperdine University where he teaches Mass Communication Law.
For information, contact:
Jon Pfeiffer
Pfeiffer FitzGibbon & Ziontz LLP
233 Wilshire Blvd, Suite 220
Santa Monica, California 90401
Telephone: (310) 451-5800, ext. 23
Facsimile: (310) 451-1599
Pfeiffer(at)pfeifferlaw(dot)com
http://www.pfeifferlaw.com