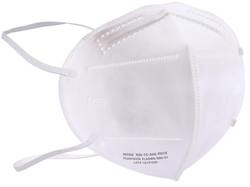 ICU Health made record-shattering donations of PPE items across the United States, prioritizing access to underserved essential workers in some of the nation's worst-hit areas.
HAYWARD, Calif. (PRWEB) March 18, 2021
Machines are running and masks are moving at ICU Health's PPE manufacturing facility in Hayward, CA. The company sprang into action in the early months of the pandemic, putting their powerful production and distribution lines to work to create Made-in-the-USA NIOSH N95s, ASTM surgical masks, and basic 3-ply masks, as well as to deliver top-of-the-line PPE to frontline workers in some of the country's hardest-hit states.
ICU Health has prioritized people over profits from its inception, not only in their responsiveness and outreach but in the quality and design of their PPE as well. For instance, their NIOSH N95s, which are manufactured using US-sourced materials, are ideal for workers in food processing facilities because they use no staples and contain no exposed metal, thus eliminating the potential risk of food contamination. Unlike competitors' N95s, ICU Health's respirators don't obstruct vision, making them optimal for fast-paced, high-hazard work environments.
To further support embattled and marginalized frontline workers, ICU Health made record-shattering donations of PPE items across the United States, prioritizing access to underserved essential workers in some of the nation's worst-hit areas.
This effort included donations of more than 5 million face masks and 5 million face shields to the State of California—the largest single donation of PPE the state has received to date. Abby Brown, Chief of the California Governor's Office of Emergency Services, shared: "Partnerships with the private sector have been invaluable as we continue to respond to the pandemic and the needs of our essential workers. We are thankful for ICU Health's donation of 10 million items of PPE, which demonstrates we are truly in this together. This donation was distributed to all corners of the state, to multiple different essential industries, and numerous communities in need."
In addition, the company donated another record-breaking one million PPE items to the State of Idaho for distribution to essential workers and at-risk communities. "Idaho is grateful for the dedication and generosity of ICU Health in supporting Idaho during the pandemic," Governor Brad Little said. "We are truly blessed to partner with so many organizations taking steps to promote the health and safety of Idahoans during a time of critical need." Donations were also made in Oregon and Arizona, while additionally supplying PPE to hospitals and businesses in the states of Utah, Texas, Florida, Maryland, California, and more.
ICU Health has also been a trusted supplier of PPE to Target and Walmart, as well as entire frontline corporations, including Tyson Foods, Driscoll's, Select Medical, and Advent Health. About the company's B2B partnerships and donation efforts, ICU Health CEO Kirk Hobbs said, "We've all seen the disproportionate blow that low-income, immigrant, elderly, and minority communities have endured during this pandemic. We knew right away that we couldn't just stand by and watch. By manufacturing N95s and other PPE, we can retain strict control over standards and quality, which has enabled us to place safe, Made-in-the-USA, frontline-ready equipment in people's hands faster than ever before."
ICU Health produces top-of-the-line, Made-in-the-USA N95 respirators, surgical masks, and basic masks, while additionally maintaining a vast inventory of high-quality, carefully sourced PPE in their Hollister, CA facility. The company continues to expand bulk distribution through corporate partnerships in several U.S. States. To learn more about partnering with ICU Health or placing orders for PPE, visit ICUhealthusa.com/learn-more.