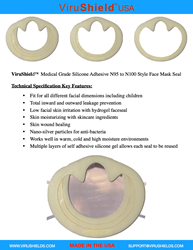 "We want to make our solution widely available so that people can realize the full level of protection from these masks while also being comfortable," adds Reef Mowers, co-founder of ViruShield™
San Diego, California (PRWEB) March 08, 2020
ViruShield™ (http://www.virushields.com), a California-based medical device company, announced today that they will begin the mass production of a first-of-its-kind adhesive seal for face masks. Manufacturers of N95 respirators have increased production in response to the coronavirus outbreak as the World Health Organization (WHO) estimates that personal protective equipment (PPE) supplies need to be increased by 40 percent. A widely acknowledged limitation of the N95 mask is that it does not provide a seal between the mask and the wearer, allowing for leakage of contaminated air through gaps. This is even more problematic for children and people of different ethnicities for whom the standard one-size-fits-all masks are not designed. Wearers also complain of scrapes and scarring that occur when masks are worn for long periods of time because of continuous shifting due to a poor fit. ViruShield™ uses medical-grade materials to eliminate leakage and maximize comfort by creating a custom seal between the mask and faces of all shapes and sizes. The seal is also infused with nano silver to help kill bacteria.
ViruShield™ hopes to support public health initiatives aimed at controlling the coronavirus outbreak and beyond. Carl Savoia, lead ViruShield investor, says he was "shocked to realize how poorly the N95 masks fit and that no one has stepped up to tackle the problem." "We want to make our solution widely available so that people can realize the full level of protection from these masks while also being comfortable," adds Reef Mowers, co-founder of ViruShield. ViruShield's adhesive seal is designed to fit 3M N95 N100 and other manufacturer face masks, facepieces and respirators
ViruShield™ makes all products in the USA, with production in northern California beginning this week. The company has already pre-order commitments from customers in Asia. ViruShield is currently accepting inquiries for B2B orders through the company's website http://www.virushields.com U.S. Patent pending (62/958604) & (69/969587)
About ViruShield™
ViruShield is a California-based medical device company dedicated to improving the efficacy of personal protective equipment (PPE) through innovation.
Reeflection®