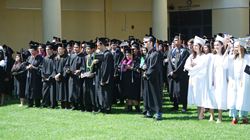 The class of 2019 is an inspiration to us all with their perseverance and dedication, and we are excited to see their continued contributions as they move forward to their next stages of life
SAN JUAN CAPISTRANO, Calif. (PRWEB) June 24, 2019
California Connections Academy, a tuition-free online public school serving students in transitional kindergarten through 12th grade, graduated over 665 high school seniors via two commencement ceremonies. On June 17 at San Joaquin Delta Community College in Stockton, northern California students gathered to honor students' accomplishments, with remarks from Ripon Unified School District Superintendent Dr. Ziggy Robeson and Valedictorian Lily Eiselt. On June 19, southern California students graduated at the University of California, Irvine, with remarks from Jim Reardon, Governing Board Member of the Capistrano Unified School District Board of Trustees, and top ranked graduates Daniel Park and Alexandria Gable.
Student scholarships totaled more than $1.4 million, with this year's class headed to various prestigious higher education and career opportunities. Graduating seniors include:

Musician, songwriter, actress and surfer Charlotte Sabina of Manhattan Beach, who plans to study creative writing at the University of California, Santa Barbara
Kate Bierly of Laguna Niguel who was recruited to play on University of California, Berkeley's volleyball team
Twins Kayla and Sarah Randolph, of Lindsay, who will attend University of Arizona on scholarship to study elementary education and the medical field, respectively
Southern California Valedictorian Daniel Park will attend the United States Air Force Academy
Southern California Salutatorian Hope Furukawa plans to attend Pacific Union College and study health communications
Additional 2019 graduates will go on to pursue higher education at institutions including Dartmouth College, Villanova University, Boston University, University of Southern California, New York University, Fordham University, Loyola Marymount University, University of California, Davis, University of Göttingen in Germany, and American University of Paris, among others.
"California Connections Academy allowed me to simultaneously keep up with grades and train as a competitive cyclist," said California Connections Academy Southern California Valedictorian Daniel Park. "If it weren't for that, I don't know if I would have been able to get into the Air Force Academy."
"This environment was a catalyst for my success," added 2019 graduate Charlotte Sabina. "The flexibility enabled my peers and I to do incredible things, and the teachers genuinely supported us in becoming the most well-rounded versions of ourselves."
The online school serves a wide variety of students throughout the state, providing an innovative and flexible learning environment for more than 6,000 students. The combination of state-credentialed teachers and high-quality curriculum, which meets stringent state education standards, allows the school to provide a top-tier learning program for its students.
"It's an honor to graduate this incredible group of curious, passionate and talented students," said Dr. Richard Savage, Executive Director of California Connections Academy schools. "The class of 2019 is an inspiration to us all with their perseverance and dedication, and we are excited to see their continued contributions as they move forward to their next stages of life."
For high school students, California Connections Academy offers a competitive, high-quality curriculum, honors and (AP)® classes, digital technology, visual and performing arts courses, and Career Technical Education (CTE) courses. National Honor Society and National Junior Honor Society chapters are available for students, in addition to an AVID program to help students in grades 6-12 prepare for college and careers. Students can also pursue passion areas through a variety of clubs and activities including technology club, career club and more.
Students have many opportunities to participate in other school-sponsored events, including in-person field trips and special events planned throughout the year – from college visits to prom – where they may socialize offline with staff and fellow students. College-bound juniors and seniors may also adapt their schedules to accommodate exam preparation and applications.
Enrollment for California Connections Academy schools is currently open for the 2019-20 school year. To learn more about California Connections Academy visit the school's website.
About California Connections Academy
California Connections Academy is a network of tuition-free, high-quality, highly accountable online public school serving students in grades TK-12 via six school sites in California. California Connections Academy provides students a safe, supportive learning environment with the flexibility to learn from anywhere with an internet connection with an innovative curriculum that meets rigorous state education standards. The combination of state-credentialed teachers, an award-winning curriculum, personalized teacher support, unique electives and community experiences creates a supportive and successful online learning opportunity for families who want an individualized approach to education. For more information, call 800-382-6010 or visit the school's website.