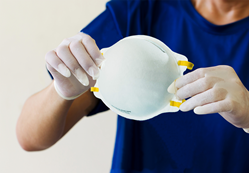 Previously, advanced PPE such as N95 masks were restricted to frontline and healthcare providers due to limited availability. We have now secured sufficient supply that enables us to offer our N95s to the public and all businesses.Daniel SooferianFounder,Titan Protect USA
CAMARILLO, Calif. (PRWEB) August 11, 2020
Today, Titan Protect USA, a venture of Titan West Trading, LLC, announced that effective immediately, they will stop restricting the sale of NIOSH-certified N95 particulate respirators only to essential frontline workers and healthcare providers.
Daniel Sooferian, founder of Titan Protect USA, said: "Previous restrictions on sales of advanced PPE, such as N95 masks, only to frontline and healthcare providers were necessary due to limited availability, and to ensure that the doctors, hospitals and healthcare providers who are at the highest level of risk would have ready access to these life-saving supplies. We have now been able to secure a significant and ongoing supply that enables us to continue to provide our N95s to all healthcare and frontline providers as well as to the public and all businesses."
Titan Protect USA is an official distributor of the NIOSH-certified Makrite 9500-N95 Particulate Respirator, one of the most highly sought-after brands of N95 masks. These N95 masks are certified (NIOSH Approval Number: TC-84A-5411) to provide at least 95% filtration efficiency and protection from microscopic viruses.
Sooferian added: "It is also very important to note that not all N95 masks are equal. Health experts have warned that N95 masks with a front valve or opening may actually propel expelled virus particles further, putting others at a higher level of risk. Our Makrite N95 masks do NOT have a front valve and provide the highest level of protection to both the wearer and to others."
Titan Protect USA has, to date, supplied state health departments, hospitals and healthcare facilities with millions of pieces of critically needed PPE supplies, and is committed to helping protect those who are fighting the current pandemic at great personal risk. Titan Protect USA is a leader in integrity-priced PPE that is available immediately and ships from the US. Titan Protect USA also provides a wide range of Personal Protective Equipment.