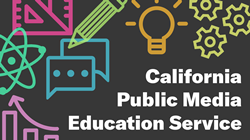 "Through combining our resources across stations for one statewide service, it's now easier for teachers all across California to find trustworthy, high quality resources for their curriculum and their own professional learning." -- Robin Mencher, Executive Director of Education, KQED
SAN FRANCISCO (PRWEB) September 15, 2020
California teachers, students and families are facing new and unprecedented challenges this school year, and public media stations across the state have teamed up to provide free, high-quality educational services. The California Public Media Education Service is a new coalition founded by PBS member stations KQED in San Francisco and PBS SoCal in Southern California and the California County Superintendents Educational Services Association, in partnership with eight other California public media stations. As of today, regardless of what geographical region they are in, educators can take advantage of free digital resources and online events offered by public media from across the state, all collected in one, easy-to-navigate place.
"These are unprecedented times," says San Bernardino County superintendent and CCSESA president Ted Alejandre, "All of us are doing as much as we can to support all of our 6.2 million plus students in the state of California. It's just a pleasure for us, the superintendents across our 58 counties, to partner with other collaborators to make sure that students get the support they need."
The California Public Media Education Service puts the educational resources from multiple California public media stations all in one place for teachers to easily browse and use, regardless of which region they might live in. The Service is hosted on the PBS LearningMedia platform and features resources for all educators serving children from 2 years old through 12th grade. Resources include professional development courses and webinars as well as classroom media and lesson plans for use with students. The Service also includes a digital collection that teachers can share with their students' families. Additionally, stations are broadcasting educational content regionally to help create a bridge to learning for those without reliable internet access at home.
"Only public media could do this," says Jamie Annunzio Myers, Chief Operating Officer at PBS SoCal. "We put together a one-stop shop that can serve teachers, families and students across the state."
The California Public Media Education Service grew out of the At-Home Learning initiative, which was a rapid response to the wave of COVID-19 school closures in spring 2020 that provided broadcast and digital resources to school communities transitioning to distance learning. This initiative was an unprecedented collaboration between Los Angeles Unified School District and public media stations, led by PBS SoCal and KQED. This partnership has since grown to include the California County Superintendents Educational Services Association.
"We've been creating and sharing free educational resources with our local teachers for decades to bring real-world learning into the classroom," says KQED's Executive Director of Education Robin Mencher. "Through combining our resources across stations for one statewide service, it's now easier for teachers all across California to find trustworthy, high quality resources for their curriculum and their own professional learning."
California Public Media Education Service partner stations include KPBS, Valley PBS, KVCR, KLCS, KVIE, KNPB | PBS Reno, KXIE and NorCal Public Media.
Educators across the state can freely access the California Public Media Education Service online by visiting https://ca.pbslearningmedia.org/collection/california-public-media-education-service. The service includes weekly training webinars and events to help teachers get started.
Schools and districts looking for further support can contact their regional station's education staff at education@kqed.org for the Northern California and education@pmgsocal.org for Southern California for connections to your local station.
About CCSESA
The California County Superintendents Educational Services Association (CCSESA) provides the organizational mechanism for the 58 County Superintendents of Schools to design and implement statewide programs to identify and promote quality cost-effective educational practices and services, and provide support to school districts in the areas of student services, curriculum and instructional services, fiscal accountability and business services, personnel services, and technology and telecommunications. ccsesa.org
About KQED
KQED is a San Francisco-based nonprofit, public media station and PBS and NPR affiliate. KQED serves educators and students nationwide by providing free, high-quality resources that strengthen media literacy skills, empower youth voices and encourage civil discourse. As a nonprofit and a leader in media innovation, KQED provides standards-aligned classroom content and professional development courses that educators can trust. The KQED education team is comprised of educators and experienced media professionals with a passion for equity and access in education. kqed.org/education
About PBS SoCal
PBS SoCal is a donor-supported community institution that is a part of Public Media Group of Southern California, the flagship PBS station for 19 million diverse people across California formed by the merger of PBS SoCal and KCETLink Media Group. PBS SoCal delivers content and experiences that inspire, inform and entertain – over the air, online, in the community and in the classroom. We offer the full slate of beloved PBS programs including MASTERPIECE, NOVA, PBS NewsHour, Frontline, Independent Lens, a broad library of documentary films including works from Ken Burns; and educational PBS KIDS programs including Daniel Tiger's Neighborhood and Curious George. Our programs are accessible for free through four broadcast channels, and available for streaming at pbssocal.org, on the PBS mobile apps, and via connected TV platforms Samsung devices, Android TV, Roku, Apple TV and Amazon Fire TV. pbssocal.org/education
Media Contacts:
JP Shields
Senior Director, Communications, PBS SoCal
jpshields@pbssocal.org
(747) 201-5886
Peter Cavagnaro
Director, Marketing & Communications, KQED
pcavagnaro@kqed.org
415-553-8451