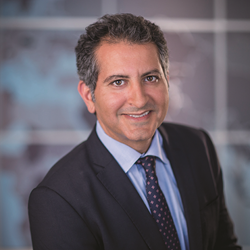 "Their insider knowledge and insight into Opportunity Zones — an exciting new frontier of American investment — is making this the most influential and successful Opportunity Zone Expo in the nation."
IRVINE, Calif. (PRWEB) January 07, 2019
California State Treasurer Fiona Ma, who was inaugurated in Sacramento today, will be a keynote speaker at the Jan. 25 Opportunity Zone Expo, the country's largest education, networking and marketing event for key players in the industry.
Ma is one of more than 50 government officials, industry professionals and accomplished investors sharing their insight at the expo, which takes place at the JW Marriott L.A. Live hotel in downtown Los Angeles.
The conference will also feature keynote addresses from Nevada Attorney General Adam Laxalt and Congressman Alex Mooney of West Virginia. Hundreds of industry professionals will attend the expo, including fund managers, attorneys, real estate developers, tax specialists, investment banks, institutional investors and government officials.
"We are proud to present three of our country's great leaders alongside so many other distinguished professionals who are influential in their fields," said Ali Jahangiri, CEO of the Opportunity Zone Expo. "Their insider knowledge and insight into Opportunity Zones — an exciting new frontier of American investment — is making this the most influential and successful Opportunity Zone Expo in the nation."
Ma last served as a member of the California State Board of Equalization. In November, she received 7.8 million votes, more than any other treasurer candidate in state history. Ma is also a certified public accountant and former member of the California State Assembly, where she became the first Asian-American female speaker pro tempore. She supported law protecting victims of domestic violence and human trafficking, as well as advocated for California consumers and minority business owners.
Headquartered in California, the Opportunity Zone Expo mentors industry leaders about economic development through the government's new tax incentive program established by Congress in the Tax Cuts and Jobs Act of 2017. Specifically created within the act are Opportunity Zones, which are low-income communities that are attractive for investment because they offer tax incentives to investors. There are 8,700 zones in all 50 U.S. states, five territories and Washington, D.C.
Investors to the zones can defer capital gains tax by 10 percent after 5 years, 15 percent after 7 years or pay no tax after 10 years. The law also allows investors to pool their money investment into special Qualified Opportunity Funds.
"Opportunity Zones are providing unprecedented economic opportunities across the United States," Jahangiri added. "By providing tax incentives, they are benefiting not only local and national investors, but thousands of local communities who will reap the benefits of revitalization, business investment and jobs. They're a win-win for all involved."
Through the Opportunity Zone Expo's extensive network of professionals and industry experts, the company's conferences will help expand U.S. business networks and keep professionals nationwide updated about Opportunity Zone regulations, trends, fund creation and new projects.
The expo leans on its parent company's longstanding history of organizing domestic and global conferences about investment, immigration and legislation. It provides a cutting-edge agenda with impressive keynote speakers and a wide spectrum of thousands of attendees.
For more information or to buy tickets, visit http://www.opportunityzoneexpo.com.
Follow us on social media:
Twitter: @oppzoneexpo
Facebook: @opportunityzoneexpos
LinkedIn: https://www.linkedin.com/company/opportunity-zone-expo/
Instagram: @opportunityzoneexpo
Media Contact:
Marie Ekberg Padilla
Editor in Chief
Opportunity Zone Expo
949-293-0829
marie(at)opportunityzoneexpo(dot)com
http://www.opportunityzoneexpo.com