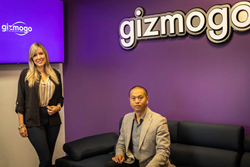 25,000 Recycled Electronics Items, It's Just the Beginning.
LOS ANGELES (PRWEB) June 11, 2021
Online technology platform Gizmogo (pronounced "Gizmo Go!") is proud to announce that it has achieved a milestone just two years after it was formed.
The Los Angeles-based operation recycled or put to reuse 25,000 electronic devices, allowing them to be sold, recycle or donated to the needy, while keeping these products out of the nation's landfills.
Gizmogo – which recycles used cell phones, laptops, tablets, drones and game consoles – reached this historic plateau this month. It has been refurbishing nearly 1,000 products a month since its launch in early 2019.
"This is a great milestone in our company's early history," says Gizmogo CEO James Wang. "Together we play a part in preserving the environment. When you sell your phone or electronic item to us, that's money in your pocket and one less phone in the landfill."
Gizmogo buys used electronics in all kinds of conditions and refurbishes broken ones, making them like new. It provides customers with a way to make money off their used items while at the same time, helping the environment.
Free shipping for recycled products are standard for Gizmogo. Along with a free shipping label and a 15-day quote guarantee, customers receive instant quotes. Payment is sent within 24 hours of receiving a evaluating the device. Gizmogo makes it easy for consumers to recycle with the high prices it pays for devices (up to 30% more than other buy-back companies) along with providing free shipping. It buys electronics that are fully functional or broken.
The company is focused on recycling because of the startling numbers of electronic waste in the world and the damaging effects discarded products have on the environment and people.
Used electronics are the quickest-growing source of waste. The USA is the world leader in e-waste (followed by China). According to the United Nations:

Global e-waste volumes grew by 21% between 2104 and 2019
The world discarded 53.6 million tons of e-waste in 2019
Only 17.4% of e-waste discarded in 2019 was recycled
Between 300 and 400 million electronic items are discarded each year in the USA alone and according to the Environmental Protection Agency, only 12.5% of e-waste items are even recycled. All told, e-waste compromises 70% of all toxic waste.
Not only are discarded electronic devices filling up landfills, they are environmental and health hazards. E-waste affects the quality of the soil, water and air in areas near where landfills are located. According to the EPA, toxic substances such as lead, mercury, arsenic and cadmium are often released into the environment and endanger entire communities. This can cause brain, heart, liver, kidney and skeletal system damage in humans.
"25,000 is just the beginning," Wang says. "We hope to recycle and refurbish 100,000 electronic items very soon as we enhance our mission to clean up the environment and promote recycling across America."
ABOUT GIZMOGO - Gizmogo is an online used electronic product recycling platform. The platform focuses on the life cycle management of such electronic products as mobile phones, and is determined to create a one-stop processing service platform for idle electronic products in the form of selling, recycling, replacing, auctioning and exchanging for new ones with old ones. Since opening our doors in 2019, Gizmogo's mission has been simple - make it easy for you to sell your used gadgets at the highest price with the fastest payment possible. Our team members believe your once cherished device sitting in your drawer has more value in being re-purposed and given a new life. We take your device and give it to someone who will enjoy it the same way you once did. That's why Gizmogo strives to create a seamless customer experience that enables people to see the full potential and value of their devices. Our goal is to extend the life-cycle of technology while reducing the impact on our environment and passing the value onto our customers. https://www.gizmogo.com/