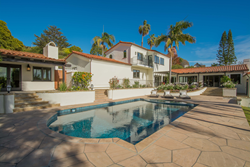 LOS ANGELES (PRWEB) March 27, 2020
With over 2,200 confirmed cases in the state of California and 41 confirmed deaths, from the COVID-19 pandemic, California is quickly becoming one of the epicenters of the outbreak. As of Monday, state officials were issuing urgent warnings about the need for more hospital beds, and equipment as medical facilities begin to reach their capacity. During this crisis, Hira Health, a Los Angeles based Substance Abuse Treatment Center is leading the industry in combating the spread of the virus in its facilities, while helping other facilities do the same.
Dr. Abe Malkin, Medical Director at Hira Health, featured on NBC, Fox News says, "The biggest consensus is that it all comes down to testing, as early and as often as we are able. Taking the proactive approach to get tests on hand to get clients tested right away when there is a concern prospectively." CEO of Hira Health, Nicholas Mathews, has taken an aggressive position in ensuring its clients and their families that the 6 Hira Health properties across the state are continuing to receive clients, while providing sanitary conditions. Mathews states, "We are a licensed healthcare facility and the services we provide are necessary. Our current and future clients rely on programs like us to continue to do what we do best. The reality is that addiction and alcoholism doesn't take any breaks and neither do we." The COVID-19 pandemic is a tragedy that is overwhelming the healthcare system across the United States. Healthcare officials in California alone, say there is a need for over 50,000 hospital beds for the sick and infected.
As COVID-19 pandemic persists, there is also the silent pandemic of opioid abuse in America, which on average takes the lives of 130 people a day. Hira Health has repeatedly expressed its commitment to making its homes safe for clients who are suffering from drug and alcohol abuse, while setting the industry standard in combatting the spread of COVID-19 in treatment facilities.
Hira Health has been closely monitoring the CDC protocols related to the COVID-19 pandemic. The facility has implemented the following health procedures to ensure the safety of all clients and staff, while insisting that other facilities follow the same protocol.

All unnecessary visitors and non-client care staff have been postponed from coming into the facility, unless deemed absolutely necessary
Staff has been trained on infection control protocol such as proper hand washing and prevention methods to prepare for potential issues if the virus is to spread
All common areas of the facility undergo a routine disinfection (this includes the kitchen, door knobs, surface areas, bathrooms, bedrooms, etc.)
Hira Health Staff performs 30 minutes rounds to ensure clients safety, as well as monitor any potential flu-like symptoms
Disinfection stations, including hand sanitizer stations, have been set up around the facility
Hand sanitizer, gloves and face masks are available for client use at any time
All new clients are required to have a medical examination, which includes a temperature reading upon admission
Clients receive scheduled meetings with the medical director via Telehealth
Hira Health is a Behavioral Health facility, focused on Substance Abuse and Dual Diagnosis treatment with 6 locations stretching across Central to Southern California. Hira Health offers their clients a wide variety of Holistic and Evidence-based treatment and exclusive programming to alleviate anxiety, stress and a relief from a life of addiction. For more information visit http://www.hirahealth.com or call (800) 785-2757.