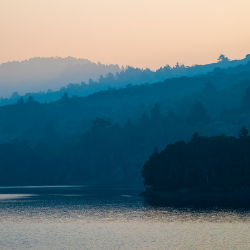 "Hurricanes, earthquakes, floods and other disasters can instantly destroy medical documents. A question any consumer should ask their health provider, or dentist, is, 'Do you electronically back up my records so they won't get destroyed in case of a disaster?"
SANTA CLARA, Calif. (PRWEB) December 17, 2018
The California Camp Fire is now being called the worst in California history—with the death toll at 85 and 11 still missing.[2] A less-reported aspect of the fires, or any natural disaster, is the potential destruction of the very medical records needed to identify the victims of such disasters. Forensic experts often rely on DNA and, or, dental records to identify the dead. In November 2017, Santa Rosa Community Health clinic was destroyed by a fire that also spread through the community. The facility served approximately 24,000 people per year providing medical, dental and mental health services.[3] When medical records go up in flames, or are destroyed in another natural disaster, families of the missing can be besieged with worry for weeks or even months, waiting for forensic experts to determine if their relatives are among the dead. Larry Bennett, CEO of AccuImage, an industry-leading digital document and information management firm, stresses that all healthcare businesses, including dental practices, should use Electronic Health Record (EHR) technology and digital scanning of patient records to avoid the loss of documents due to a natural disaster.
According to forensic anthropologist Anthony Falsetti, a professor at Arizona State University's School of Mathematical and Natural Sciences, "Without an intact body, the challenge of positively identifying an individual is difficult. Without useable DNA, intact dental evidence or complete bones, the challenge becomes more difficult since features become destroyed or damaged. In the instance of fire or thermal-related deaths, this challenge becomes more complex due to the destruction of identifying features of the person. Fire destroys the most obvious individuating characteristics we all have such as hair color, tattoos, dental traits, etc." [4]
"Fire isn't the only problem," says Larry Bennett. "Hurricanes, earthquakes, floods and other disasters can instantly destroy medical documents. A question any consumer should ask their health provider, or dentist, is, 'Do you electronically back up my records so they won't get destroyed in case of a disaster?"
Case in point, In October 2012 Hurricane Sandy hit the eastern seaboard, devastating areas of New York and New Jersey. According to the Community Health Care Association of New York State, 1500 patient records were destroyed at the Community Health Care Association of New York State because of hurricane flooding. Doctors are legally required to keep patient records for seven years, so the rebuilding process had to be done. In the meantime, though Sandy devastated areas of Staten Island and other boroughs of New York City, it wasn't able to corrupt electronic data," said Lee Stevens of the State Health Information Exchange Policy at ONC. "I don't believe there was even one server lost," Stevens said, referring to data storage of Electronic Heath Records in New York/New Jersey. [5]
Fires and other catastrophes can also destroy dental offices, as was the case in September of this year at Kid's Choice Dental and Orthodontic clinic in Payallup, WA burned to the ground.[6]
Larry Bennett with AccuImage adds, "In today's day and age using paper documentation can not only cause problems for patients and forensic experts, it can cost a practitioner or medical facility dearly in terms of wasted time, effort and money. Electric Health Records stored on a cloud are the ultimate paperless document management protection from disasters."
About AccuImage:
AccuImage, headquartered in Santa Clara, CA., has been servicing corporate America since 1988. It is a document processing firm that specializes in helping clients with the storage and retrieval of paper documents and managing of information. They provide tailored, automated workflow solutions that include the digitizing, streamlining and automation of documents, invoice processing and accounting processes. Over the past thirty years, their document and information management services have been used by some of the world's biggest brands across a multitude of industries from education to health care to public utilities and more. For more information visit https://accu-image.com
1. "Facts + Statistics: Wildfires." III, http://www.iii.org/fact-statistic/facts-statistics-wildfires
2. Lam, Kristin. "Death Toll Drops to 85 at Camp Fire; 11 People Remain Missing." USA Today, Gannett Satellite Information Network, 4 Dec. 2018
3. "Santa Rosa Vista Clinic Destroyed by Wildfire." The North Bay Business Journal, 1 Dec. 2017
4. Seckel, Scott. "The Challenge of Identifying Fire Victims." ASU Now: Access, Excellence, Impact, ASU News, 25 Oct. 2017
5. "Post Hurricane Sandy: Health Information Technology 1, Paper Records 0." HealthIT.gov, 21 Nov. 2012
6. News, KOMO. "Dental Clinic Destroyed by Fire Overnight in Puyallup: Https://T.co/HvmCNDPcSN Pic.twitter.com/2yyqbyGgKp." Twitter, Twitter, 10 Sept. 2018,