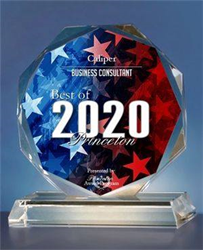 This recognition validates our team's commitment to helping our customers hire, develop, and retain high-performing work teams.
PRINCETON, N.J. (PRWEB) January 16, 2020
Caliper, a global talent management solutions provider newly acquired by PSI Services LLC, has been selected by the Princeton Award Program as a winner of the 2020 Best of Princeton Award in the Business Consultant category. This award joins a recent Training Industry award that PSI Services received as a Top 20 Assessment and Evaluation Company for the third consecutive year.
As part of the Best of Princeton Awards, the Princeton Award Program identifies companies each year that have achieved exceptional marketing success in their local community and business category. These are local companies that enhance the positive image of small business through service to their customers and the community. These exceptional companies help make the Princeton area a great place to live, work, and play.
"For over 55 years, we have been a part of the Princeton community, so it's a real privilege and honor to be selected as an exceptional local business by the Princeton Awards committee. This recognition validates our team's commitment to helping our customers hire, develop, and retain high-performing work teams," said John Maketa, Chief Revenue Officer at Caliper, a PSI Business. "Whether it's our people analytics platform or our validated, scientific assessments, we are able to fully equip our customers to assess and develop their talent across the entire employee life cycle."
Various sources of information were gathered and analyzed to choose the winners in each category. The 2020 Princeton Award Program focuses on quality, not quantity. Winners are determined based on the information gathered both internally by the Princeton Award Program and data provided by third parties.
For more information about Caliper, a PSI Business, visit http://www.calipercorp.com.
About Caliper, a PSI Business
Caliper, a PSI Services LLC (PSI) Business, is a global workforce solutions provider that designs robust solutions for our clients by blending best-in-class assessment content, leading-edge technology, and deep consulting expertise across the entire career life cycle. PSI has over 70 years of experience providing worldwide testing solutions to a wide variety of customers across public and private sector industries, ranging from small business to global enterprises, leading academic institutions, and government organizations. PSI offers a comprehensive solutions approach from test development to delivery and results processing, including pre-hire employment selection, managerial assessments, licensing and certification tests, distance learning testing, and other specialized services. Through its work with over 2,000 experts across 160 countries delivering over 15 million tests and assessments per year globally, PSI exists to empower people in their careers and drive organizational success. More information is available at both http://www.calipercorp.com and http://www.psionline.com.
About the Princeton Award Program
The Princeton Award Program is an annual awards program honoring the achievements and accomplishments of local businesses throughout the Princeton area. Recognition is given to those companies that have shown the ability to use their best practices and implemented programs to generate competitive advantages and long-term value. The Princeton Award Program was established to recognize the best of local businesses in our community. Our organization works exclusively with local business owners, trade groups, professional associations, and other business advertising and marketing groups. Our mission is to recognize the small business community's contributions to the U.S. economy.