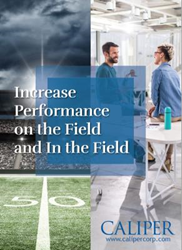 Leader in Personality Assessments Highlights the Importance of Mental Strength in Sports and in the Workplace.
PRINCETON, N.J. (PRWEB) May 15, 2019
CALIPER, the leading provider of personality assessments for selection, talent management, and leadership development for nearly 60 years, announced today that it will be a Gold Sponsor, exhibitor, and speaker at the ATD 2019 International Conference and Expo in Washington D.C. on May 19 - 22. Caliper will specifically showcase the importance of mental toughness and how it can increase performance for sports teams on the field and within sales teams working in the field.
Caliper representatives onsite will offer the scientific data behind mental toughness as a workplace attribute. Caliper will be exhibiting at Booth #2106 in the exposition hall. To promote this cutting-edge research, Caliper representatives will be decked out in football apparel, offering visitors the chance to try their luck at a football toss with plenty of prizes to win. This includes a grand prize of a full conference registration to the 2019 ATD Sell Conference in Las Vegas this October!
Caliper will also participate in several speaking engagements throughout the show:
1. Sunday May 19, 11:00 am - 1:00 pm: Sales Enablement as the Indispensable Business Partner: Using Data and Wins to Secure a Seat
at the Table.

Room: 207, Walter E. Washington Convention Center
Moderator: Dayna Williams
2. Sunday May 19, 4:30 pm - 5:30 pm: Building the Bench: Elevating High-Performing Salespeople Into Manager Roles.

Room: Liberty Ballroom MNOP, Marriott Marquis
Speaker: Dayna Williams
3. Tuesday May 21, 3:00 pm - 4:00 pm: How Mental Toughness Differentiates the Best From the Rest.

Room: 208, Walter E. Washington Convention Center
Speakers: Dayna Williams and Thomas Schoenfelder, Ph.D.
Visit Caliper at Booth #2106 at the 2019 ATD Conference and Expo to learn more about company offerings. For additional information about Caliper, visit http://www.calipercorp.com.
About CALIPER
CALIPER, a talent management solutions company, leverages decades of data and validated assessment results to provide deep insights into employee and candidate potential, predict job performance, and uncover developmental opportunities for the workforce. For nearly 60 years, CALIPER has helped over 65,000 organizations worldwide to improve critical aspects of managing talent. CALIPER is the leading provider of talent management solutions for organizations hiring and developing employees. Find out more at http://www.calipercorp.com.