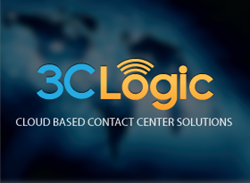 [Voice] has the power to drastically enhance internal efficiencies, reduce costs, and transform the customer experience when integrated with a CRM.
Rockville, MD (PRWEB) January 19, 2016
3CLogic, an award winning provider of contact center solutions, will be joining forces with CRM consultant and implementer, Epicom, in a collaborative webinar to discuss the wide array of benefits CRM platforms provide, where they fall short in delivering on customer expectations, and the advantages of integrating a CRM with a contact center solution.
WHO: 3CLogic, a leading provider of cloud contact center solutions, in collaboration with Epicom, a software consulting firm specializing in CRM implementation. Presenters: 3CLogic VP Sales & Marketing, Epicom Director of Marketing.
WHAT: As the sales and customer service landscape continues to evolve and become far more complex, businesses around the globe are discovering the value in adopting advanced CRM platforms to assist in collecting and organizing the vast amount of data their clients provide, and using it to deliver seamless customer service. And with organized client data, agents can more effectively up-sell, cross-sell, target marketing efforts, and solve potential issues before they escalate. Yet, arguably the most vital component of sales and service delivery, and one CRM platforms do not inherently provide, is voice—a channel that has the power to drastically enhance internal efficiencies, reduce costs, and transform the customer experience when integrated with a CRM.
This webinar will explore the following:

The benefits and shortfalls of CRMs and database management platforms, and challenges businesses are facing in delivering on customer needs and expectations
The negative impacts of utilizing disparate telephony and database management platforms within the contact center
The value businesses can obtain by aligning their CRM or database management platform with their communications platform/contact center software, and how it will vastly improve sales and customer satisfaction
WHEN: This On-Demand Webinar will become available Wednesday, January 27th, 2016.
WHO SHOULD ATTEND: CEOs, CIOs, Marketing Directors, Sales Executives, Call Center Managers, Lead Generation Professionals
This webinar is open to any organization interested in enhancing their customers' overall experience by streamlining the agent desktop with integrated CRM and Telephony Solutions. Register for the Webinar here: http://www.callcenter-iq.com/customer-experience-management/webinars/3c-logic-webinar/
About 3CLogic
3CLogic is a leading provider of multichannel cloud contact center software designed for today's enterprise businesses. A true cloud solution, hosted on AWS, it offers seamless integration with other cloud-based solutions, including CRM, Ticketing, WFO and WFM, to allow any organization to migrate from premise-based or cloud platforms without disrupting existing business workflows. Built on a unique distributed infrastructure, it avoids the traditional pitfalls of current solutions while providing market-leading security, scalability, system flexibility, and reliability. Built to enhance sales performance, customer experience, and overall rep productivity, 3CLogic provides a powerful communication framework to help complement any business initiatives. For more information, please visit http://www.3clogic.com.
About Epicom
Epicom is a technology solutions firm focused on consulting and executing complex Customer Relationship Management (CRM) and Marketing Automation deployments, customizations and integrations. Epicom is dedicated to helping companies be successful and grow by providing comprehensive software solutions and services including training, support, and CRM hosting. Epicom is one of SugarCRM's top Elite partners and winner of the 2014 Sugar Partner Global Leader Award. For more information, call 512-481-9000, visit http://www.epicom.com, or follow us on Twitter @epicomcorp.