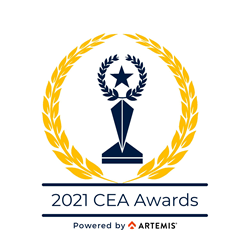 BROOKLYN, N.Y. (PRWEB) March 31, 2021
To recognize distinguished individuals and organizations in the Controlled Environment Agriculture (CEA) industry, Artemis today launched the 2021 CEA Awards. Nominations will be open from March 30, 2021 until April 13, 2021 and winners will be selected by a prestigious, independent awards committee comprised of agriculture professionals.
Awards Committee:
Allison Kopf, CEO Artemis
Lawrence Wang, Digital Labs & DxO and EDGE Lead, Cargill
Steve Graves, Vice President Business Development, Fluence by OSRAM
Travis Graham, International Account Manager Lifesciences, Schneider Electric
Award winners will receive well-earned recognition and validation from a vetted, independent committee. There is no cost to participate. Nominations are open to all individuals and companies in the CEA space who have locations or offices in North America and who have already launched their business (unfortunately, it's impossible for the committee to vet companies in stealth and all information submitted may become public, so do not submit an entry if you haven't publicly launched yet). Nominators may submit more than one nomination.
Award Categories:
Top Employer Award
Brand Excellence Award
Health and Safety Award
Sustainability Award
Produce Person of the Year
Cannabis Person of the Year
Innovative New Packaging Award
Innovative New Product Award
Disruptor Award
Rising Star Award
Industry Connector Award
There are so many exciting things going on in the CEA industry right now and these awards are meant to shine a light on this incredible work. All winners will receive a mention in the announcement press release, media opportunities, and a graphic logo to place on your website or on social media.
Nominations are now open and will close on April 13, 2021. To nominate an individual or company, go here.