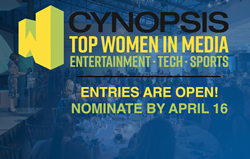 "We can't wait to celebrate the innovators, risk-takers and women instrumental in executing strategy," said Robbie Caploe, Publisher of Cynopsis. "They include the leaders of today, as well as the corporate captains of tomorrow, forging a path that encourages and inspires."
NEW YORK (PRWEB) January 29, 2020
Cynopsis has announced the call for entries for the annual Top Women Awards, with an entry deadline of April 16, 2020. The awards will honor females elevating the industry in categories that cover entertainment, tech, esports and sports media. The honorees will be announced in late June and honored at a special awards reception on Thursday, September 24, 2020 in New York City.
"We can't wait to celebrate the innovators, risk-takers and women instrumental in executing strategy," said Robbie Caploe, Publisher of Cynopsis. "They include the leaders of today, as well as the corporate captains of tomorrow, forging a path that encourages and inspires."
The category list encompasses tech leaders, directors, corporate visionaries, local & national news ambassadors, and more. To see the complete list of categories, visit the award website. Click here to review last year's gala and honoree list.
Aside from individual categories, there is also a "Distinguished Companies" category, recognizing organizations that work to make equal opportunity, inclusion, pay parity and women in leadership positions a priority. They are creating policies and opportunities to ensure women can contribute, grow and lead the industry forward. The 2019 recipients included Hulu and Women's Tennis Association.
Honorees will be celebrated at an awards gala on Thursday, September 24, 2020 in New York City and profiled in a special edition of Cynopsis. For entry questions, contact Cathy Pearson at cathyp@cynopsis.com. For advertising or sponsorship information, contact Robbie Caploe at rcaploe@accessintel.com.
About Cynopsis:
Cynopsis is what the TV industry reads first every day. The Cynopsis family of products includes the media industry's most-read daily, Cynopsis, plus sister daily Cynopsis Sports; weekly Esports, the Cynopsis Jobs board and special reports. Serving TV, agency and brand professionals, Cynopsis Media produces conferences and awards programs that are second to none. Find out more at cynopsis.com.