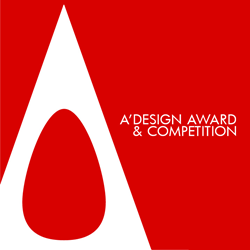 Good design deserves great recognition: A' Design Award & Competition is seeking the World's best design to award them with A' Design Prize in 2020.
Como, Italy (PRWEB) February 22, 2020
Today, A' Design Award & Competition has announced its call for entries for the 10th edition of the accolades. Now in its 10th year, the A' Design Award & Competition is the World's leading international annual juried competition for good design, annually publishing World Design Rankings as well as Best Designs of the World index, a well curated list of good design work from across the globe.
The A' Design Award & Competition is organized in 110+ design competition categories and entries are open to submissions of designers, artists, architects, creatives and design oriented businesses worldwide.
Entries to the A' Design Award & Competition are peer-reviewed and anonymously judged by a 209-person large, influential jury panel of experienced academics, prominent press members and established professionals. The 209-person large jury panel and blind peer review process contributes to the prestige and importance of the accolade.
A' Design Award & Competition promises fame, prestige, publicity and international recognition to all A' Design Award winners through the A' Design Prize which is given to celebrate the awarded designs. A' Design Prize includes many benefits such as international exhibitions, gala-night invitation, certificates and a winner logo. The "A' Design Award Winner" logo, granted only to award winning designs, signifies original, functional and efficient designs that make a positive impact for our World. Award winners are able to use the A' Design Award winner logo to promote their works, products, and services.
The A' Design Award & Competition has been established to promote and recognize the best design works in all countries and in all creative disciplines. The primary aim of the A' Design Award & Competition is to create a global awareness and understanding for good design practices and principles by highlighting the best designs in all countries and in all industrial fields. The ultimate aim of the A' Design Awards is to push designers, companies and brands worldwide to create superior products and projects that benefit and advance society.
The A' Design Award & Competition has a philanthropic goal to advance society by pushing the frontiers of science, design, creativity and technology forward by creating incentives for innovators to come up with better ideas, that help the World become a better place. Every year, projects that focus on innovation, technology, design and creativity are awarded with the A' Design Award. Entries are accepted annually till February 28th and results are announced every year on April 15. Designers worldwide are called to take part in the accolades by entering their best works, projects and products.
Interested parties could nominate their work for award consideration at A' Design Award & Competition entry management portal at https://competition.adesignaward.com/registration.php
Further information about A' Design Award, including full jury member list, list of past laureates, judging and scoring methodology could be obtained at https://competition.adesignaward.com/