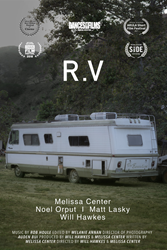 Everyone should see 'R.V' to understand just what is at stake for abortion care and reproductive health.
LOS ANGELES (PRWEB) October 02, 2018
Co-directors Will Hawkes and Melissa Center, who also star, created "R.V"—a socially charged viral short film making the festival circuit rounds—as a tool to raise awareness for women's health advocacy groups and other related not-for-profit organizations. The filmmakers are partnering with the Reproductive Health Access Project (RHAP) and Artists Rise up Los Angeles (ARULA), among others, to inspire voters before the midterm elections. Special screenings will be held in various markets around the country to raise voter awareness about the rights that are being chipped away, as well as the looming possibility of Roe v. Wade being overturned by a conservative Supreme Court.
Lisa Maldonado, executive director of Reproductive Health Access Project, says, "'R.V' is gut-wrenching. The situation the film simply and powerfully portrays is not a far cry from the dangerous realities that women in certain parts of our country face. Everyone should see 'R.V' to understand just what is at stake for abortion care and reproductive health."
"'R.V' tells a powerful story of a woman (played by Melissa) seeking an abortion in an area where access is scarce. We don't know anything about her political leaning or religious affiliation, we don't know who she voted for or even her thoughts on abortion. All we know is she is getting one and are drawn into every ounce of her emotion throughout her experience." (GirlTalkHQ.com)
Will Hawkes says, "The film is not graphic, but people have found it disturbing. We aim to show—as accurately as possible—what women go through when they don't have access to safe reproductive care. 'R.V' reveals what's at stake if women lose the right to choose."
Some of the more startling facts about the state of women's reproductive rights include:

Since Roe v. Wade (1973), there have been 1142 abortion restrictions added by states.
As of 2017, seven states had only one facility providing abortions: Kentucky, Mississippi, West Virginia, Missouri, Wyoming, South Dakota, & North Dakota
In 2018, nearly 90% of counties in the U.S do not have a clinic providing abortions.
The film premiered online on Facebook on the first day of Kavanaugh's confirmation hearings and has received nearly 500,000 views to date, and counting.
"R.V" has also been screened at various political events, including the National Women's Political Caucus, where it appeared along with a video featuring Diane Feinstein addressing Roe v. Wade.
Melissa Center says, "If Brett Kavanaugh is confirmed, we see how this film can be used as an outcry to rally people to vote pro-choice candidates in midterms."
A Screening Tool Kit, which includes a Discussion Guide, is available at rvshortfilm.org.
Calls to action for concerned voters include:
Share "R.V" on your social media channels with the hashtags #rvshortfilm #voteprochoice #womensrights
Email the film to 10 – 20 contacts on both sides of the debate
Call your representative and demand they oppose Kavanaugh
Register to Vote at vote.gov
Vote for pro-choice candidates
A number of Special Screenings are coming up, including:
Orlando Film Festival Oct 19th 2:30pm & Oct 25th 7pm (Festival runs 18th-25th)
2018 Portland Film Festival - October 22 – 28
2018 Indie Memphis Film Festival – November 2nd
Sue Hamilton, founding executive producer and artistic director of ARULA, says, "R.V is an important film that asks deep and uncomfortable questions. Beautifully explored by filmmakers committed to honest storytelling, ARULA is honored to have presented its premiere screening."
For more information or to secure a free Voter Action Guide, please visit rvshortfilm.org.
About "R.V."
Stripped of her rights, a woman's life changes when she ventures with her husband to remedy an impossible situation. "R.V" is co-directed by Will Hawkes and Melissa Center, written by Center, produced by Hawkes and Center, and edited by Melanie Annan. Director of photography is Auden Bui, production design is by Tora Badulescu, sound design is by Lihi Orbach with original music by Rob Houle. The film has screened as an official selection at Dances With Films (World Premiere), Kew Gardens Festival of Cinema, Chain Film Festival, Arula Short Film Festival and Sidewalk Film festival.
Links:
Website & Watch Film: rvshortfilm.org
Trailer: https://vimeo.com/278090654
Facebook: http://facebook.com/rvshortfilm/
Twitter: @RVshortfilm
YouTube: https://youtu.be/jqqr2wfOpws