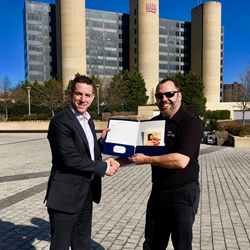 OLD LYME, Conn. (PRWEB) January 20, 2020
On January 15, Callaway Cars recognized three Authorized Dealers for their exceptional performance as 2019's Top Volume Callaway Dealers. Awards were presented to the three dealers representing the three marques upfit by Callaway: Chevrolet, GMC and Cadillac. Selling more Callaway vehicles during 2019 than any other dealer, the same Callaway Dealers received this special honor for the second year in a row.
Top Volume Callaway Dealers – 2019:
Chevrolet – Patriot Chevrolet, Limerick PA
GMC – Patriot Buick/GMC, Boyertown PA
Cadillac – LaFontaine Cadillac, Highland MI
Jason Owens, Owner of Patriot Chevrolet, and Chad Helmer, Patriot Buick/GMC's Owner, were delighted to accept Top Volume Callaway Dealer Awards on behalf of their respective sales teams. This recognition confirms the efforts of their entire organizations and illustrates the collaborative relationship that has been established with their dealerships, the Callaway management team and General Motors.
Michael Walls, General Sales Manager of LaFontaine Cadillac, personally received the Top Volume Callaway Dealer Award from Chris Chessnoe, Callaway Program Manager, at the National Automobile Dealers Association (NADA) Campus in McLean, VA. Walls, who was attending the NADA Dealer Academy, expressed his continued enthusiasm with the Callaway program: "…Having Callaway as an option for those Cadillac customers looking to stand out from the crowd and significantly increase the performance of their vehicles has been tremendous for our team".
If you're a franchised Chevrolet, GMC, or Cadillac Dealer looking for ways to add excitement to your vehicle lineup with powerful product and to distinguish your dealership from others in your market, Callaway is interested in hearing from you.
Contact:
Mike Zoner
Managing Director
Callaway Cars Inc.
(860) 434-9002 x205
mzoner@callawaycars.com
Links:
Patriot Chevrolet – https://www.chevyking.com/Callaway-Cars
Patriot Buick/GMC – https://www.patriotbpg.com/Callaway-Vehicles
LaFontaine Cadillac – https://www.lafontainecadillac.com/Callawaycarscadillac
Callaway Cars – https://www.callawaycars.com