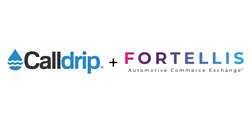 SALT LAKE CITY (PRWEB) November 22, 2019
Calldrip, a rapid response and lead management platform, today announced that it has published its solution on the Fortellis Automotive Commerce Exchange™ platform, the world's first open, agnostic platform for the development and marketing of API-based automotive solutions. Details on Calldrip are now available through Fortellis to dealerships, OEMs and independent software vendors (ISV) in North America.
"It's exciting to see Calldrip added to the Fortellis platform," said Brock Jackson, chief operating officer for Calldrip. "The team at Fortellis is building a world-class platform that will transform our industry, and we couldn't be more thrilled for this partnership."
With Calldrip, as an online customer is viewing the dealer's website, the customer's information is routed by the software to either a sales or BDC representative who hears the lead information and a call is triggered to the potential customer within 60 seconds to set up an appointment. The call is recorded, scored and saved for future training and follow-up at the dealership.
This solution allows for any information updated in Calldrip to be updated in Fortellis, saving time and freeing up agent efforts. Key components of this integration between Calldrip and Fortellis include:

Calldrip rapid response data
Assign the answering agent
Update notes and record URL
Track and record inbound and outbound calls to any lead
Click to call
"We're very pleased to introduce Calldrip as the newest solution publisher on the Fortellis platform," said Steven Liu, vice president, product management, CDK Global. "Calldrip is a welcome addition to Fortellis and joins a growing number of companies creating products that will shape the future of our industry."
Fortellis is designed to connect automotive-retail processes with seamless ease and transparency.
About Fortellis Automotive Commerce Exchange™ Platform
Fortellis is a technology platform that enables the automotive industry to leverage, build, innovate and integrate solutions and workflows to transform business. The Fortellis platform—with its Developer Network and Marketplace—connects software developers, OEMs and dealers so they can create new and unique experiences efficiently and seamlessly. Visit fortellis.io to learn more.
About CDK Global, Inc.
With $2 billion in revenues, CDK Global (Nasdaq: CDK) is a leading global provider of integrated information technology solutions to the automotive retail and adjacent industries. Focused on enabling end-to-end automotive commerce, CDK Global provides solutions to dealers in more than 100 countries around the world, serving approximately 30,000 retail locations and most automotive manufacturers. CDK solutions automate and integrate all parts of the dealership and buying process, including the acquisition, sale, financing, insuring, parts supply, repair and maintenance of vehicles. Visit cdkglobal.com.
About Calldrip
For more than 10 years, Calldrip has been dedicated to helping businesses respond immediately to new inquiries. We have leveraged this experience to develop our suite of sales automation tools and have now deployed this technology to thousands of customers worldwide. By triggering a phone call between your sales team and your prospect while they are still on your website, we are able to increase conversations by as much as 900 percent. The privately held company is based in Salt Lake City, Utah. For more information, visit calldrip.com.
Media Contacts:
Roxanne Pipitone
Sr. Director, Corporate Communications
CDK Global
847.485.4423
Roxanne.pipitone@cdk.com
Madison Elliott
Digital Marketing Manager
Calldrip
801.877.1111
melliott@calldrip.com