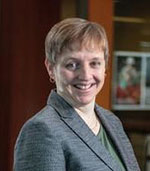 ST. PAUL, Minn. (PRWEB) April 22, 2020
The University of Minnesota's Integrated Food Systems Leadership (IFSL) program is growing leaders to feed the future. Launched in 2019 to help build the next generation of food system leaders, IFSL's ground breaking graduate certificate program is fostering leadership, collaboration, and innovation in the food system. Delivered primarily online, the IFSL 13-month program is accepting applications for its next cohort that will begin in September 2020.
"Now more than ever it's critical for future food system leaders to develop the knowledge and leadership skills needed to navigate uncertainty and work more effectively together," shares Dr. Jennifer van de Ligt, IFSL program director. "The COVID-19 pandemic is a real-time example of the pressures facing our food system and why we need to break boundaries inherent in our system to shift to a system-thinking approach in order to achieve better results. This is the focus and core mission of the IFSL program."
The inaugural IFSL cohort is comprised of professionals throughout the food system - from the private to public sectors and farm to fork. This dynamic group of emerging leaders are already applying their program knowledge and skills to help their respective organizations more effectively handle the impact of the COVID-19 pandemic.
"With our current situation, it is even more important to understand your supply chain for food. This pandemic has put stress we have never seen on our markets and supply chains. Knowing how they all work together—how a small change here or there can have a vast impact down the line—gives you the ability to solve problems from that bigger picture systems perspective," Karl Kratze, IFSL Cohort 2019-2020 class.
Interested individuals and organizations who want to learn more about the IFSL program are invited to attend an IFSL Informational Webinar on Friday, May 8, 10:00 am C.T.
IFSL program director, Dr. van de Ligt, will share how IFSL provides a multifaceted and robust learning experience for its participants by:

Information will also be provided about the program's interactive online format, admissions process, partial scholarships, and more. To register for the webinar, please visit https://z.umn.edu/IFSLwebinar.
For those interested in the webinar though unable to attend, it is still recommended to register as a recording will be sent out to all registrants after the event.
About the University of Minnesota's Integrated Food Systems Leadership Program
Delivering a comprehensive and actionable educational experience, the University of Minnesota's Integrated Food Systems Leadership Program (IFSL) broadens the knowledge and understanding of the global food supply chain and interdependencies across the food system, while promoting critical thinking and problem solving across disciplines. IFSL is a Post-Baccalaureate Regents Certificate program designed for working professionals and bridges the gap between traditional food system education and a professional leadership program.
For more information, visit https://ifsl.umn.edu/.