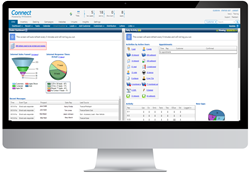 We are thrilled to announce this new partnership with VinSolutions that will drastically increase functionality between the two systems and the flow of information for a seamless experience.
BALTIMORE (PRWEB) June 06, 2019
CallRevu, automotive's leader in call tracking with advanced monitoring and phone call analytics solution, is excited to announce a partnership with VinSolutions, integrating the company's call tracking and monitoring solution with the leading customer relationship management (CRM) platform and providing greater value to the market, as well as our combined customers. The new CallRevu and VinSolutions integrated solution offers automotive dealers a more efficient way to connect with potential customers, log sales calls in a centralized location, and maximize each phone opportunity.
Users of the VinSolutions Connect CRM platform will be able to optimize inbound and outbound calling with key features, including automated integration of all inbound sales calls, performance monitoring of all outbound calls, and a new click-to-call feature directly through VinSolutions Connect CRM. Additionally, the calls will be automatically recorded and pushed back into the dealership's CRM for user-level access and manager review.
"We are thrilled to announce this new partnership with VinSolutions that will drastically increase functionality between the two systems and the flow of information for a seamless experience. Now, managers will be able to easily access detailed call analytics to improve team productivity and increase appointment results," says Tom Harsha, CallRevu Chief Product Officer.
The CallRevu-powered outbound click-to-call feature in VinSolutions Connect CRM has all-new machine monitoring technology and greatly enriches call analytics. The intuitive, easy-to-read dashboard improves customer follow-up productivity and transparency. This partnership with VinSolutions creates greater call functionality and allows dealers to take full advantage of the most powerful features of both systems on one seamless, integrated platform.
"The VinSolutions team is always looking for ways to streamline workflows and improve efficiency for our dealer clients, and this partnership with CallRevu helps achieve those goals. We look forward to our mutual clients receiving expanded functionality like click-to-call, which will allow for increased productivity and a more efficient user-experience," said Kristen Baehr, Associate Vice President of Product for VinSolutions.
About CallRevu
CallRevu, founded in 2008, helps thousands of automotive dealers in the U.S. cultivate the customers that make it into the showroom after having a great experience on the phone. CallRevu has monitored over 110 million calls and by providing local and toll-free numbers to place on all ads, we track, listen, summarize, alert, and report on dealership's phone calls to monitor call performance. With the robust data we collect, we coach on how to enhance the caller's experience and improve the bottom line of dealerships.
About VinSolutions
As the provider of Connect CRM, a leading dealership customer relationship management system, VinSolutions helps more than 5,000 dealers make every connection count. VinSolutions products integrate dealership systems, processes and tools to deliver a single view of the customer across the business – so dealers can focus on building relationships throughout the sales cycle. Founded in 2006 and headquartered in Mission, Kansas, VinSolutions fosters dealership success by providing a fully customizable suite of solutions, including equity mining, market pricing and desking tools, combined with the continuous, personal support of a designated Performance Manager. VinSolutions is OEM certified by every major manufacturer and is Autosoft, CDK, Reynolds & Reynolds and Dealertrack DMS certified. VinSolutions is a Cox Automotive™ brand.