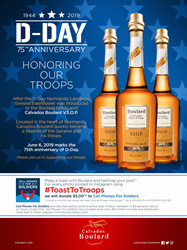 NEW YORK (PRWEB) May 22, 2019
Leading wine & spirits importer Palm Bay International is pleased to announce that Calvados Boulard is partnering with Cell Phones For Soldiers to celebrate the 75th anniversary of D-Day. For every Instagram post that uses the hashtag #ToastToTroops, Boulard has pledged to make a $5 donation (up to $25,000).
Calvados has a unique connection to U.S. history and the military. During World War II, allied troops came ashore to launch the largest seaborne invasion in history. They landed on the beaches of Normandy, France – home to Calvados Boulard. After the Normandy landings (recognized today as D-Day), General Eisenhower was introduced to the Boulard family and Calvados Boulard V.S.O.P., which quickly became the favorite of the General and his troops. June 6th, 2019 will mark the 75th anniversary of the D-Day landings.
On a mission to "Connect America's Bravest," Cell Phones For Soldiers is a national nonprofit organization dedicated to providing cost-free communications services and emergency funding to active-duty and veteran military members. Since 2004, Cell Phones For Soldiers has provided more than 300 million minutes of free talk time and recycled more than 15 million cell phones. Each week, Cell Phones For Soldiers mails approximately 1,500 calling cards to troops in need.
"We are proud to support Boulard's partnership with Cell Phones For Soldiers in honor of the 75th anniversary of D-Day," says Gary Schlem, Senior Director of Brand Development at Palm Bay International. "As a family-owned company deeply passionate about our brands, we aim to partner with those who reflect our own ideals of passion, authenticity, and respect. We invite our consumers to support our troops who bravely support us in return."
General Manager of Spirit France, Serge Dersahaguian, also says, "It is our deep pleasure to honor such a rich moment in history by supporting military families. We toast with Calvados Boulard to the past, present and future brave soldiers."
Boulard Calvados is the first name in super- premium Calvados, the celebrated apple-based spirit unique to the Normandy region. With a 31% share of the U.S. Calvados market and international distribution in 60 countries, Boulard is one the leading brands of Calvados in the U.S. and worldwide.
Calvados Boulard's V.S.O.P. has a suggested retail price of $45.99/$55.99 (750ml/1L). The spirit is best enjoyed neat or in a classic cocktails. Limit to one entry per week. Must be of legal drinking age. (From 5/1/2019 to 12/31/19)
About Calvados Boulard:
The international renown of Maison Boulard owes its origins to the inspiration of Pierre-Auguste Boulard, the founder of the prestigious Pays d'Auge distillery in 1825. Since the days of Pierre-Auguste, five generations of the Boulard family have contributed to the development of this business, which has gone on to become an international company. With a presence in every single country in Europe and a distribution network covering 80 countries over 5 continents, Calvados Boulard is the number 1 exporter of Calvados in the world. For more information, visit http://www.calvados-boulard.com.
About Palm Bay International:
Palm Bay International, a Taub Family Company, has spent the past forty plus years curating one of the most admired portfolios of imported wines and spirits from key appellations/origins around the world, including a growing range of domestic wines. Collaborating almost exclusively with family-owned wine estates and distilleries, Palm Bay has developed a flourishing portfolio that meets the needs of every level of trade. Among Palm Bay's most valued assets is its remarkable network of long-term partnerships with their suppliers and with the foremost wholesale companies, as well as their own team of passionate, dedicated professionals. Through three generations of bold leadership and a commitment to authenticity and craftsmanship, Palm Bay International has solidified its reputation as a major source of fine wines and spirits and industry leader in the U.S. marketplace. For more information visit http://www.palmbay.com.
About Cell Phones For Soldiers:
Cell Phones For Soldiers Inc. is a national nonprofit dedicated to serving troops and veterans with free communication services and emergency funding. Founded in 2004 by Robbie and Brittany Bergquist, then 12 and 13 years old, Cell Phones For Soldiers has provided more than 300 million "Minutes That Matter" to deployed troops. Since 2012, "Helping Heroes Home" has provided emergency funds for more than 3,100 returning veterans to alleviate communication challenges as well as physical, emotional and assimilation hardships. For more information, visit https://www.cellphonesforsoldiers.com/.