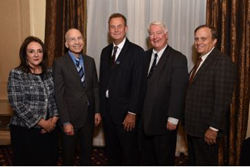 BRONX, N.Y. (PRWEB) October 29, 2018
On October 22, Calvary Hospital's event on Making Palliative Care a Global Public Health Imperative, attracted more than 160 people, many from the leading hospital and healthcare facilities in the Tri-State area.
Keynote speaker Lawrence O. Gostin, JD, shared his personal experience with palliative care as he navigated the healthcare system with his 102-year-father. He discussed healthy living, healthy aging, healthy dying in a just society, and what constitutes a "good" death. Professor Gostin drew on his deep experience as a global health expert to argue that palliative care needs to be at the top of every nation's agenda. Professor Gostin is a University Professor at Georgetown University, the University's highest academic rank, the founding O'Neill Chair in Global Health Law, the Faculty Director of the O'Neill Institute for National and Global Health Law, and the Director of the World Health Organization Collaborating Center on National & Global Health Law.
The event included a thought-provoking panel discussion moderated by Christopher P. Comfort, MD, Medical Director, Calvary Hospital, with:

Bruce Jennings, Senior Fellow, Center for Humans and Nature, Adjunct Associate
Professor, Vanderbilt University, Senior Advisor, the Hastings Center;

Thomas Merrill, General Counsel, NYC Department of Health & Mental Hygiene
Mary Beth Quaranta Morrissey, Ph.D., MPH, JD, President, Board and Chair,
Advisory Board, Collaborative for Palliative Care; Fellow, Global Healthcare Innovation
Management Center, Fordham University Gabelli School of Business
The panelists added their expertise to important questions about the intersection of palliative care and public health, the racial inequities in access to quality healthcare, and the tensions between individual decisions vs. communal responsibility in providing palliative care to
all who seek it.
Dr. Morrissey presented Mr. Gostin with the Dr. Mary Ann Quaranta Distinguished Public Health Law Scholar Award in recognition of his advocacy work in global health.
Since 1899, Calvary Hospital has been the nation's only fully accredited acute care specialty hospital devoted exclusively to providing palliative care to adult patients with advanced cancer and other life-limiting illnesses. Each year, thousands of patients receive CalvaryCare throughout the greater New York area. To learn how Calvary can help you and your family, please visit http://www.calvaryhospital.org.