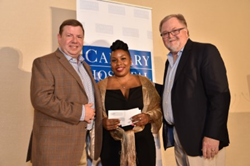 BRONX, N.Y. (PRWEB) August 14, 2019
On August 5, more than 250 people attended Calvary Hospital's 31st Annual Golf & Tennis Classic at Brae Burn Country Club and Century Country Club in Westchester County. The event raised more than $300,000 for Calvary programs and services for patients and their families. In addition to golfing, tennis and dinner, the event included a live auction, silent auction and raffle prizes featuring local businesses.
The event co-chairs were Dennis M. Berberich, Maryann Farrell and Joe Nunziata. Major sponsors included Linda and Dennis Berberich, ArchCare, the Deglomini family, GNYHA Ventures Inc., Gallagher, LaSorsa Auto Group, Manhattan Beer, The Mines Press, Montefiore Health System, New Rochelle Chevrolet, Pelham Civic Association, Pepsi, The Robert Goelet Foundation Simone Healthcare Development, the Solimine family, and York.
This year's event is dedicated to the memory of Dennis Berberich Sr. A long-time member of the Calvary Hospital Board and the chairman of the Calvary Fund Board, Dennis' family created the Dennis Berberich Scholarship Fund, which allows one Calvary Care Technician (CCT) to further his or her career in nursing. The 2019 honoree is Apriena Irving. She started her career in 2015 with Calvary at our Brooklyn Campus. Her goal is to use the scholarship to attend nursing school.
Since 1899, Calvary has been the nation's only fully accredited acute care specialty hospital devoted exclusively to providing palliative care to adult patients with advanced cancer and other life-limiting illnesses. Each year, thousands of patients receive CalvaryCareSM throughout the greater New York area. To learn how Calvary can help you and your family, please visit http://www.calvaryhospital.org.