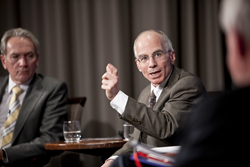 BRONX, N.Y. (PRWEB) September 18, 2018
Calvary Hospital will host an event in Manhattan on:
Making Palliative Care a Global Public Health Imperative
Monday, October 22, 2018
6:00 to 9:30 pm
The Roosevelt Hotel
Madison Avenue by 45th Street
New York City
There is no fee to attend. All are welcome.
The keynote speaker will be Lawrence O. Gostin, JD, university professor at Georgetown Law and
founding O'Neill chair in global health law. He is also faculty director at the O'Neill Institute for National and Global Health Law and the director of the World Health Organization Collaborating Center on National & Global Health Law.
Other speakers will include the following:

Christopher P. Comfort, Medical Director, Calvary Hospital;
Bruce Jennings, Senior Fellow, Center for Humans and Nature, Adjunct Associate Professor, Vanderbilt University, Senior Advisor, the Hastings Center;
Thomas Merrill, General Counsel, NYC Department of Health & Mental Hygiene
Mary Beth Quaranta Morrissey, Ph.D., MPH, JD President, Board and Chair, Advisory Board, Collaborative for Palliative Care Fellow, Global Healthcare Innovation Management Center, Fordham University Gabelli School of Business
To learn more or to RSVP by October 16, please visit education.calvaryhospital.org or call (718) 518-2285.
About the Company:
Since 1899, Calvary Hospital has been the nation's only fully accredited acute care specialty hospital devoted exclusively to providing palliative care to adult patients with advanced cancer and other life-limiting illnesses. Each year, thousands of patients receive CalvaryCare throughout the greater New York area. To learn how Calvary can help you and your family, please visit http://www.calvaryhospital.org.