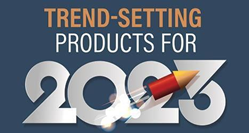 "We've always understood the power of knowledge graph for true data integration."
BOSTON (PRWEB) December 13, 2022
Cambridge Semantics, Inc., the leading knowledge graph platform company, is excited to have AnzoGraph DB, the engine that drives their flagship product Anzo®, named a Trend Setting Product for 2023.
The list of 50 companies, judged by Database Trends and Applications (DBTA) editorial staff, showcases solutions that increase the energy and efficiency of IT services; enable enterprise sustainability through technologies like traceability, analytics, emissions management software, and AI; and help customers achieve their own sustainability objectives. DBTA selected organizations according to their presence, execution, vision, and innovation in enabling IT departments to deliver sustainable data products.
Cambridge Semantics supports enterprise data architecture strategies–such as data fabric or data mesh–by enabling agile, robust, enterprise-scalable data integration via the knowledge graph platform, Anzo. Anzo makes turning siloed data into enterprise-scale knowledge graphs fast and easy. From there, anything's possible. End users, technical or non-technical, can ask their questions of all your data.
At Cambridge Semantics, whether the data architecture buzzword is Data Fabric, Data Mesh, FAIR data etc...what's important is the implementation. Any approach that can't quickly integrate multiple data sources spanning both structured and unstructured content and rapidly query across them at scale is fundamentally flawed.
"Cambridge Semantics is excited to have AnzoGraph DB named a Trend Setting Product," said Eugene Linkov, Director of Product at Cambridge Semantics, Inc. "Our customers are realizing the ROI of using the only MPP OLAP graph database available which is further augmented by the power of knowledge graph for true data integration. It is great to be recognized by industry experts and is a testament to all the hard work that our engineering teams have put in over the years."
For more information on how Cambridge Semantics improves data integration architectures with knowledge graph, visit https://cambridgesemantics.com or contact us directly at info@cambridgesemantics.com.
Cambridge Semantics Inc. is a modern data management and enterprise analytics software company. Our product Anzo is the most complete, scalable, and powerful knowledge graph platform available today. Anzo quickly transforms siloed data into highly connected knowledge graphs, revealing previously hidden insights, supporting ad hoc queries, fueling pervasive analytics, and making previously unanswerable questions answerable. Our solutions enable organizations in Financial Services, Government, Healthcare, Life Sciences, and Manufacturing to accelerate integrated data delivery and provide meaningful insights enterprise-wide at hyper-speed and scale.