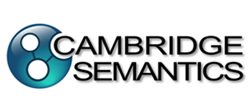 BOSTON (PRWEB) June 02, 2020
Cambridge Semantics, the leading provider of graph-driven modern data integration software for the enterprise data fabric, today announces its expansion of operations to meet growing customer demand throughout Europe.
Leading Cambridge Semantics' European expansion is Robert Thomson, vice president of field operations for EMEA. Thomson is a seasoned professional in the data analytics and enterprise software industry, with a successful track record of building client-facing teams in Europe. "The opportunity in the European market is substantial and I am excited to join Cambridge Semantics to help realize this potential," commented Thomson.
"Cambridge Semantics has experienced a dramatic increase in our European customer base over the past year, and it became clear that establishing a formal presence in Europe will enable us to get closer to our clients and partners in order to best serve their data discovery, data integration and analytics needs," said Ben Szekely, senior vice president of field operations, Cambridge Semantics.
The company is best known for its award-winning Anzo®, a modern data discovery and integration platform for the enterprise data fabric that applies graph and semantics to connect and bring meaning to enterprise data from any system across the enterprise. Anzo enables virtually anyone in an organization – from skilled data scientists to novice business users – to find, connect, and blend enterprise data into analytic ready datasets.
"The market for graph-driven data management and enterprise data fabrics is exploding around the world, as organizations recognize the value in accelerating data integration and enabling an easier, more agile and less expensive approach to analytics. Ultimately, graph-driven solutions reduce the cost and time to unlock insights from data," added Chuck Pieper, chairman and chief executive officer, Cambridge Semantics.
Anzo provides customers with unprecedented value, particularly in financial services, life sciences, government, manufacturing and the wider market where customers need to gain greater insights for their entire collection of enterprise data.
About Cambridge Semantics
Cambridge Semantics Inc., The Smart Data Company®, is a modern data management and enterprise analytics software company that enables seamless access, integration and analysis of all enterprise data via a graph-driven data fabric architecture.
Cambridge Semantics award-winning Anzo® platform is a modern data discovery and integration layer to connect and bring meaning to enterprise data from any system across the enterprise. The company's AnzoGraph® DB, based on open standards, is the fastest & most scalable graph database supporting data integration and analytics with data warehouse-style analytics, graph algorithms, and more.
The company delivers products and solutions that enable IT departments and business users across Life Sciences, Financial Services, Government, Manufacturing, and other industries to accelerate data delivery and to provide meaningful insights across the organization at hyper-speed and scale.
Visit http://www.cambridgesemantics.com or follow us on Facebook, LinkedIn and Twitter: @CamSemantics.
###