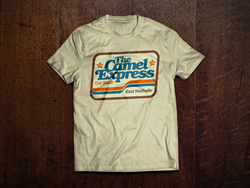 WE ARE A LOCAL CAR WASH HELPING LOCAL PEOPLE
Nashville, TN (PRWEB) March 27, 2015
The Camel Express Car Wash is not conducting its grand opening until later 2015, however, founder Read Hauck has shown his commitment to assisting the less fortunate individuals in the community immediately upon finalizing plans for construction. "There is an increasing number of homeless individuals across the nation and Nashville is no exception," says Hauck.
The public response was nothing short of extraordinary. "We received orders for shirts almost as fast as we could have them printed" says Hauck. Since the community did such a great job supporting this campaign, The Camel Express extended the outreach effort for an additional twelve weeks. The total donation number reached 500 before the campaign was over. Every shirt that was sold prompted a matching donation from The Camel Express to an individual in the homeless community. Now the shirts are available for sale to the general public. The Shirts can be purchased for $23.00 on the website .
The Camel Express Car Wash is planning to be the longest tunnel car wash in Nashville. With a 130-foot express tunnel, they will offer the latest car wash technology throughout the tunnel to provide customers with the cleanest car possible in the shortest amount of time. There will also be an area for free unlimited vacuum use at one of 20 vacuum/inspection stations.
This particular car wash will employ the latest in customer-focused technology. Beginning with a Camel Express mobile app that will accept payment using the new ApplePay payment system as well as PayPal's new Ibeacon payment technology which senses when the customer pulls onto the premises and initiates payment via smartphone without the driver even having to roll the window down.
The Camel Express is constructing a state of the art tunnel light show using elements such as lasers and LED strobe lights to ensure the customers are entertained while they are on site. Pricing will start at $5.00 for a basic wash and there will be larger wash packages available. There are discounts associated with the monthly-unlimited wash club memberships that will be offered. For more information, you can visit the website or find the Camel Express Auto Wash on Facebook where there are weekly contests and regular giveaways to assist in building a fan base prior to opening later this year. Also, locations 2, 3 and 4 have already been identified and Camel Express will be announcing the future expansion plans in the coming months.