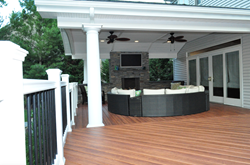 CAMO Edge Fasteners are absolutely necessary for today's decking materials—it's a great system because it uses an actual screw and ensures a solid, stable board.-- Billy Lecorchick, owner, Legend's Home Improvements
Grand Rapids, MI (PRWEB) May 10, 2017
Billy Lecorchick, founder of Legend's Home Improvements, LLC in Monroe, New Jersey, has selected the CAMO® Edge Fastening system for fast and easy installation and a beautiful deck surface. Legend's Home Improvements specializes in the construction of decks, porches, screen rooms, and gazebos, and builds about 20-50 projects a year depending on the size and scope of the project. The company provides its expertise throughout most of New Jersey, and parts of New York, Pennsylvania and Virginia.
CAMO® from National Nail serves as a one-stop deck solutions center, with edge fastening, face fastening and the best hidden clip system on the market, according to the company.
Legend's Home Improvements relies on the CAMO® Marksman Pro® for installing AZEK®, TimberTech®, and Trex® decking to assure great quality and looks on all projects. The Marksman Pro is known for its consistent angle of entry, easy installation and automatic spacing. "CAMO Fasteners are absolutely necessary for today's decking materials—it's a great system because it uses an actual screw and enables the board to sit nicely," said Lecorchick. "You get a solid, stable board. If there is ever an issue with a board, I can back the screws out to replace it where I can't with typical hidden clips."
He said CAMO fasteners outperform other systems because the installation is smoother and provides an overall more attractive appearance. "The fact that it is an actual screw going into the board gives it an advantage over conventional hidden fasteners," said Lecorchick. The CAMO Deck Screws go into the edge of solid or grooved deck boards for fast installations and offers automatic 3/16" spacing. CAMO edge fastening guides are part of a system designed to work specifically with CAMO Edge Deck Screws and CAMO Driver Bits.
For more information about CAMO Edge Fastening visit http://www.camofasteners.com
AZEK® and TimberTech® are registered trademarks of CPG International LLC and is unaffiliated with CAMO® or National Nail Corp.
Trex® is a registered trademark of Trex Company and is unaffiliated with CAMO® or National Nail Corp.
About CAMO Edge Fastening
CAMO Edge Fastening™ from National Nail delivers beautiful, fastener-free, Barefoot Approved™ results with virtually any wood, composite or PVC decking. CAMO® offers a variety of guides, fasteners, and accessories, as well as a collated system to suit project requirements. For more information or to locate a dealer, visit CAMO Fasteners or call 1-800-968-6245. Be sure to "Like" CAMO® Fasteners on Facebook.