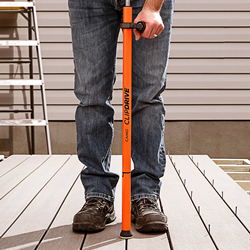 Working closely with deck builders, we designed ClipDRIVE as a solution for eliminating every day jobsite pain points such as body strain, time and labor. -- Doug Hutchings, Vice President - Product Development, National Nail
GRAND RAPIDS, Mich. (PRWEB) January 06, 2023
National Nail's CAMO® brand of tools and fasteners for deck building and beyond was honored in Architectural Products magazine's 2022 Product Innovation Awards (PIA) for its innovative ClipDRIVE™ stand-up fastening tool. Designed for use with CAMO's Universal Deck Clips, ClipDRIVE speeds up grooved decking installations up to 5X faster.
Recognizing products from the design and construction industry, Architectural Products' 2022 PIA highlights the best innovations available. Evaluated by a panel of 17 prominent designers and architects, the award judges select winners based on the functionality and performance of manufacturers' products.
"Our CAMO team is extremely proud to see the ClipDRIVE recognized in Architectural Products' 2022 Product Innovation Awards," said Doug Hutchings, Vice President of Product Development at National Nail. "Working closely with deck builders, we designed ClipDRIVE as a solution for eliminating every day jobsite pain points such as body strain, time and labor, so contractors can finish projects faster and move on to the next job."
Created to offer an efficient and comfortable installation experience in a standing position, the ClipDRIVE tool features a height-adjustable handle and weighted nose, allowing builders to quickly target and fasten exposed screw heads. The easy-to-use tool attaches to any drill to deliver reliable performance. CAMO's Universal Deck Clips require no partial installation, allowing builders to layout rows of boards and clips, lock them in with CAMO LEVER® tools and fasten in a single pass using the ClipDRIVE.
Like all CAMO products, CAMO ClipDRIVE, Universal Deck Clips and LEVER are backed by a CAMO Warranty for use with leading deck boards so you can confidently use them on every install.
Learn more about the CAMO ClipDRIVE at http://www.camofasteners.com and click here to read more about the winners of Architectural Products' Product Innovation Awards.
About CAMO
CAMO exists to provide the best deck fastening installation experience for hardworking doers who take pride in their work and value their wallets. That's you. Whether you install decks for a living, offer to help build them with a buddy, or maybe build just one in your lifetime, CAMO products are engineered to save you time and ensure your work looks and performs as you expect it should. CAMO. The Better Way to Build a Deck. For more information or to locate a dealer, visit http://www.camofasteners.com or call 1-800-968-6245. Be sure to "Like" @camofasteners on Facebook and @camodeckfasteners on Instagram. Search CAMO Fasteners on YouTube to find our channel.