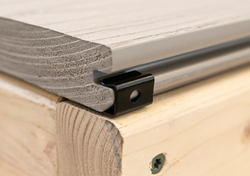 "STARTER Clips make quick work of starting grooved deck installs, so contractors can install up to 5X faster with our family of innovative CAMO products. The result is the upscale look of a truly fastener-free deck surface -- W. Scott Baker, CEO, National Nail
GRAND RAPIDS, Mich. (PRWEB) September 07, 2020
CAMO® STARTER Clips, part of the CAMO family of innovative products to help build a better deck, have earned a spot on Pro Remodeler's Top 100 Products for 2020. Chosen by its readers, Pro Remodeler's Top 100 list includes products that generated the most reader interest over the past 12 months.
Designed to eliminate face-fastening of the first and last board on any grooved decking installation on wood joists, CAMO STARTER Clips help achieve a completely fastener-free surface. The clips are easily installed by lining up the clip with the back edge of the joist, centered with the cross-joist, and fastening. Once the clips are in place, a grooved deck board can be tilted into the clip. Each package of STARTER Clips covers 30 linear feet and includes 25 clips and 25 screws made with 304 Stainless Steel for corrosion resistance.
"It's an honor to see CAMO STARTER Clips on Pro Remodeler's Top 100 Products in the Decks & Porches category alongside some of the top deck brands in the industry," said W. Scott Baker, CEO, National Nail. "We aim to eliminate hassles for deck builders. STARTER Clips make quick work of starting grooved deck installs, so contractors can install up to 5X faster with our family of innovative CAMO products. The result is the upscale look of a truly fastener-free deck surface."
For the best grooved decking installation, contractors should use STARTER Clips with CAMO EDGE™ Clips (for 90-degree deck patterns) and EDGEX™ Clips (for any angled deck pattern). Both clips are one-pass fasteners requiring no partial installation—EDGE Clip legs hug the joist and EDGEX wings fit in the board groove staying in place until they are fastened with the CAMO DRIVE™ stand-up tool or the Never-Miss™ Guide that comes with each pail of Clips. To learn more about CAMO STARTER Clips visit http://www.camofasteners.com
To view the Pro Remodeler Top 100, visit http://www.proremodeler.com/top-100-products-2020-decks-and-porches%C2%A0
About CAMO
CAMO exists to provide the best deck fastening installation experience for hardworking folks who take pride in their work and value their wallet. That's you. Whether you install decks for a living, offer to help build them with a buddy, or maybe build just one in your lifetime, CAMO products are engineered to save you time and ensure your work looks and performs as you expect it should. CAMO®. The Better Way to Build a Deck. For more information or to locate a dealer, visit camofasteners.com or call 1-800-968-6245. Be sure to "Like" @camofasteners on Facebook and @camodeckfasteners on Instagram. Search CAMO Fasteners on YouTube to find our channel or check us out on Pinterest.