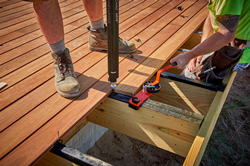 Deck Safety Month is the perfect opportunity for pros and their customers to evaluate deck safety. We also encourage contractors to stay safe with proper PPE and social distancing as they get back to building. -- W. Scott Baker, CEO, National Nail
GRAND RAPIDS, Mich. (PRWEB) May 06, 2020
During these unprecedented times, safety is top of mind for both homeowners and contractors. National Nail's CAMO® deck fastening brand partners with the North American Deck & Railing Association's (NADRA) Deck Safety Month® in May to look out for worker safety as well as encourage creating decks that are safer for homeowners.
According to Michael Beaudry, NADRA's executive vice president, "There are more than 60 million decks in the U.S., and it's estimated that 30 million decks are past their useful life and need to be replaced or repaired." NADRA's free "10-Point Consumer Safety Checklist" can be found at http://www.NADRA.org.
The stay-at-home orders in many states are also creating a pent-up desire for outdoor spaces. "Homeowners cannot wait to get outdoors to enjoy their existing or new decks," said W. Scott Baker, CEO, National Nail. "Deck Safety Month is the perfect opportunity for pros and their customers to evaluate deck safety. We also encourage contractors to stay safe with proper PPE and social distancing as they get back to building."
Built on innovation, the CAMO Experience offers several products that support safety and smaller crews with one- or two-person installation. Plus, when used in combination, they can help contractors build decks up to 5X faster. CAMO Edge Fastening for square edge boards creates strong connections into the joists as the proprietary screws are driven into the edge of the board on both sides for more stability. The unique CAMO EDGE and EDGEX Clip for grooved boards offer easy installation and are the strongest on the market in lateral movement tests. Both products leave a smooth, fastener-free surface that saves feet from popped screw heads that can also get blazing hot in the sun.
These methods are made even faster by the CAMO DRIVE™ Stand-Up tool, a lightning-fast way to drive them in while on your feet. And, the newest member of the CAMO Innovation family, the CAMO LEVER™, can straighten, lock-in, and align any deck board on any joist with one easy turn, enabling smaller crews to handle bigger jobs.
With CAMO products, homeowners get a safer, more stable deck, while contractors benefit from speedier installations that reduce labor, time and ultimately, jobsite fatigue. Learn more at http://www.camofasteners.com.
###
About CAMO:
CAMO exists to provide the best deck fastening installation experience for hardworking folks who take pride in their work and value their wallet. That's you. Whether you install decks for a living, offer to help build them with a buddy, or maybe build just one in your lifetime, CAMO products are engineered to save you time and ensure your work looks and performs as you expect it should. CAMO®. The Better Way to Build a Deck.
For more information or to locate a dealer, visit camofasteners.com or call 1-800-968-6245. Be sure to "Like" @camofasteners on Facebook and @camodeckfasteners on Instagram. Search CAMO Fasteners on YouTube to find our channel or check us out on Pinterest.
About NADRA:
The North American Decking and Railing Association is the voice of the decking industry, representing the interests of deck builders, inspectors, and manufacturers alike. NADRA's mission is to provide a unified source for the professional development, promotion, growth, and sustenance of the deck and railing building industry in North America so that members can exceed the expectations of their customers. http://www.NADRA.org