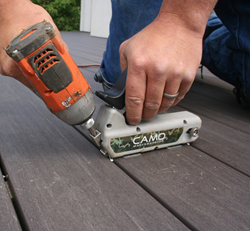 The CAMO Edge Fastening system speeds up installation time and gives the AZEK decks a fastener-free look that is worthy of a premium material.--Robert Lascelle, president and owner of My Deck
Grand Rapids, MI (PRWEB) August 23, 2016
Robert Lascelle, president and owner of My Deck, LLC in Flemington, NJ, has selected the CAMO (R) Edge Fastening system for the installation of four decks for a large-scale project in Lebanon, NJ. His crew used AZEK(R) Dark Hickory decking from the Vintage Collection for the decks, fastening them on the edge of each board with CAMO Edge Fastening's Marksman Pro. The property includes two entertainment decks that flank a garden room, a gazebo deck on the side of the house and a private balcony deck with hot tub. The home is nestled in a wooded area with rolling green hills, with scenic views from every deck.
"The CAMO Edge Fastening system speeds up installation time and gives the AZEK decks a fastener-free look that is worthy of a premium material," said Lascelle. He noted the party decks were already used by the homeowner for a large social gathering and they are extremely pleased.
According to Lascelle, a high-end deck project like this one requires the benefits that CAMO and AZEK products deliver – reduced installation time, great looks, low-maintenance and long-term performance. As an added advantage, he said CAMO makes it easy to change boards as compared to hidden clip systems in case a board is damaged. The crew used CAMO® Marksman Pro®, known for its consistent angle of entry and depth of drive that ensures test-proven holding power and automatic spacing for the pvc decking. The proprietary CAMO Deck Screws go into the edge of solid or grooved deck boards for fast installations and offers automatic 3/16" spacing. CAMO Edge Fastening guides are part of a system designed to work specifically with CAMO Edge Deck Screws and CAMO Driver Bits.
Lascelle also noted that he used the CAMO Edge Fastening system for his entire showroom, where he displays numerous decking options, such as composite and pvc brands.
AZEK® is a registered trademark of CPG International LLC and is unaffiliated with CAMO® or National Nail Corp.
About CAMO:
CAMO Edge Fastening™ from National Nail delivers beautiful, fastener-free, Barefoot Approved™ results with virtually any wood, composite or PVC decking. With the CAMO® Marksman Pro®, users can quickly and easily deliver CAMO Edge Deck Screws into the edge of solid or grooved deck boards for fast installations.