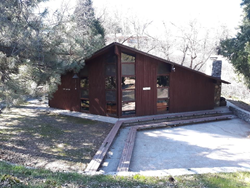 "We want to extend our invitation to the community and let them know we welcome all types of groups here at Pilgrim Pines Camp."
OAK GLEN, Calif. (PRWEB) April 30, 2019
Pilgrim Pines Camp & Retreat Center located in Oak Glen, California hosts groups of 10-262 people on its 152 acre campus. The site is home to many groups who rent lodging and enjoy meal service in a beautiful outdoor setting.
Pilgrim Pines Camp & Retreat Center is managed by United Camps, Conferences & Retreats (UCCR), a property management organization that promotes acceptance and diversity at all of the 12 sites they manage across the USA. The rules for acceptance and participation are the same for everyone who makes a reservation for an event or retreat. "We honor diversity and welcome guests without regard to age, race, color, religion, gender, sexual orientation, disability or national origin," says Tina Heck, Director of UCCR Reservations and Communications.
"We want to extend our invitation to the community and let them know we welcome all types of groups here at Pilgrim Pines Camp," says Site Director Connie Clark. As a full-service camp and retreat facility, Pilgrim Pines has multiple lodging options from lodges to cabins to apartments. The dining hall seats 225 guests and there are plenty of indoor and outdoor meeting spaces for groups to meet. Occasionally the facility offers special discounts, Clark recommends staying tuned for upcoming announcements for fall and winter specials in 2020.
With miles of hiking trails and plenty of recreational opportunities, this site is a serene setting ideal for youth, adult and family camps. Look for fall/winter specials.