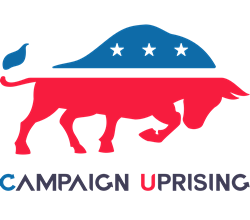 "Ease of use and data accessibility are hallmarks of any political campaign software." ~ Marty Meyer, CCO
LOUISVILLE, Ky. (PRWEB) July 30, 2020
CampaignUprising.com announced today an integration to pull data directly from a client's NGP VAN CRM for the purposes of placing digital ads online. Campaigns utilizing the industry leading CRM system now have the option of using their CRM data with CampaignUprising.com's political marketing platform via a seamless integration.
Digital advertising is a vital part of how campaigns reach out to their constituent base. Online advertising and direct mail are often used for fundraising efforts, GOTV, supporting events and rallies, raising awareness, and galvanizing support. This new integration lets CampaignUprising.com clients use data from their NGP VAN CRM to run digital and traditional marketing campaigns via CampaignUprising.com.
CampaignUprising.com's political marketing system allows smaller candidates to operate with robust microtargeting and data resources just as the big political organizations operate. CampaignUprising.com also allows big candidates to operate with the nimbleness and speed-to-market advantage that the smaller political organizations often enjoy.
Marty Meyer, CCO of CampaignUprising.com, stated about the integration "The ability for our clients to seamlessly pull their CRM data from VAN is a huge time savings for clients. Ease of use and data accessibility are hallmarks of any political campaign software. This integration with VAN will give clients a streamlined process which allow for the deployment of political campaigns in minutes."
CampaignUprising.com is a self-service political campaign software platform that allows politicians, campaigns, and advocacy groups to create digital advertising banners, select targeted voters from a series of pre-defined data sets from various political data vendors and CRM partners, and facilitates deployment of direct mail and digital marketing campaigns to voters all over the United States within minutes.
NGP VAN is the leading technology provider to Democratic and progressive campaigns and organizations, offering clients an integrated platform of fundraising, compliance, field organizing, digital, and social networking products.