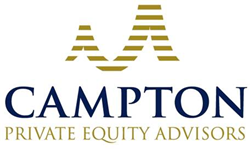 SAN FRANCISCO (PRWEB) July 15, 2019
Campton Private Equity Advisors, an investment adviser focused on private equity investments, announced that it will host a complimentary one-hour webinar "Private Equity Investing 101: An Overview for New Investors" which will take place on Thursday, August 1, 2019 at 11:00 am PDT. Allen Latta, Managing Director of Campton Private Equity Advisors, will be presenting the webinar and will answer questions live.
This webinar has been developed for institutional investors, foundations, endowments, family offices and high net worth individuals who are considering establishing a Private Equity investment program. Topics covered in the webinar will include:

What is Private Equity?
Introduction to Venture Capital and Buyouts
Why invest in Private Equity?
Private Equity investment strategies: direct investing, fund investing and fund-of-funds investing
If you are interested in joining this webinar, please register at https://register.gotowebinar.com/register/2382916975369527051
About Campton Private Equity Advisors
Campton Private Equity Advisors provides advisory services for investors in private equity strategies. Campton advises clients on the following: asset allocation; portfolio construction; fund investing; direct and co-investing; secondary transactions; stock distributions; portfolio monitoring and performance evaluation; and Limited Partner Advisory Committee representation. Please visit Campton's website at http://www.camptonpe.com.
Disclaimers
The webinar is for informational purposes only and is not to be construed as investment advice or an offer to buy or sell any securities. Private Equity investments involve significant risks, have the potential for a complete loss of invested capital, and are not suitable for many portfolios. Please see http://www.camptonpe.com for additional disclaimers.