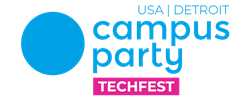 DETROIT (PRWEB) April 08, 2021
Campus Party TechFest will now take place October 8-10, 2021. Originally scheduled for July 23-25, 2021, the event will continue its partnership with the city of Detroit for its first year in the US. Campus Party TechFest will kick off at Detroit's TCF Center.
"We are committed to executing the inaugural North American Campus Party TechFest at TCF Center in 2021," said Shawn Pierce, President of Strategic Events, Meetings & Incentives at MCI USA, the official event organizer. "Our number one priority is to safely bring together top millennial and gen z talent, universities, tech companies, and more for an authentic, face-to-face experience. Rescheduling the event to later in 2021 will allow us to provide all involved in Campus Party TechFest with the safe and unique in-person experience they've been craving."
Although Campus Party TechFest has been rescheduled to a later date, the event planning has not slowed down. So far, Shark Tank's Daymond John; Model, Actress, & Software Developer, Lyndsey Scott; "The Physics Girl," Dianna Cowern; "The Godfather of Modern Skateboarding," Rodney Mullen; and Chairman of The Linux Professional Institute Board, Jon "maddog" Hall are all on board as keynote speakers.
Additionally, the professional esports organization, The Renegades, will be hosting an immersive esports experience at the event. This will include an interactive tournament, live streaming, and a variety of educational opportunities for Campuseros interested in the esports industry.
The Linux Professional Institute will also be in attendance, offering LPI Certification Exams onsite, an LPI Exam lab review workshop, and an inspiring presentation on the mainstage.
Most recently, Ford Motor Company has signed on to sponsor the event, as they continue their push to "help build a better world." Campus Party TechFest says to expect more exciting announcements regarding speakers, sponsors, and activities as they continue to design the event to provide a variety of unique opportunities for all participants.
As the only in-person Campus Party event in the world scheduled for 2021, Campus Party TechFest USA is committed to exceeding the level of experience this renowned event is known for across the globe.
Ticket sales are expected to open in July 2021, and more information as well as updates surrounding speakers and programming can be found on the website: https://usa.campus-party.org/ .
About Campus Party
An established global brand based in Italy; Campus Party has been hosted around the world more than 80 times in 15 countries. With more than 3 million attendees worldwide, Campus Party is an experience of emerging technologies, bringing together millennials, students, professionals, geeks and skill improvement seekers for an interactive festival of open innovation, creativity, science, entrepreneurship and entertainment.