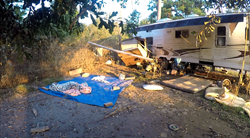 Imagine telling an 83-year-old woman who has lost everything and is living on a fixed-income of $600 a month that she gets no money to rebuild simply because she couldn't afford flood insurance.
Rose City, Texas (PRWEB) October 24, 2017
Non-profit CEO says he's outraged by the lack of results and accountability in Texas, nearly two months after Hurricane Harvey hit. He's now doubling down on CAN-DO.ORG's commitment to help residents.
"In all my years doing disaster relief, I've never seen such red-tape when it comes to getting aid to families who lost everything," Eric Klein, CEO and founder of the award-winning disaster relief organization CAN-DO.ORG (Compassion into Action Network – Direct Outcome Organization) said.
"Billions of dollars were committed to help these families and I'm not afraid to speak up and let Americans know it is not getting to the people."
Despite billions of dollars having been collectively raised for survivors of Hurricane Harvey from large NGOs and FEMA assistance programs, CAN-DO.ORG discovered many south Texas towns have no means to rebuild after being denied financial assistance.
CAN-DO.ORG founder and CEO Eric Klein was tipped off on the small town of Rose City, Texas - where all but 2 homes were completely under water following Hurricane Harvey – mid-September. At that time there was no distribution of aid set up and Klein discovered residents sleeping on tarps outside their destroyed homes. Klein made an emotional plea through a video he posted on social media alerting the public of the dire situation in Rose City. The video went viral – hitting more than half a million views in less than 72 hours.
Within 10 days, CAN-DO.ORG set up a large-scale distribution center in Rose City with the support of city officials. Containers and tents now house supplies that were donated from coast to coast including a food pantry, mold remediation material, cleaning products, cots, tens, fans and toiletries. CAN-DO.ORG commissioned local volunteers to help distribute directly to the community.
"The distribution center has been great for phase one but we're going on two months since the storm and residents in Rose City and other surrounding towns have been left in the dark to fend for themselves," Klein, who has been leading disaster relief efforts for nearly two decades, said.
After spending weeks on the ground in Rose City, Klein is outraged to discover that residents continue to live in tents outside their homes or are unable to return home because they have no electricity, no means to rebuild their destroyed homes or replace their personal belongings.
In some cases residents have become so desperate, their only alternative has been to move back into their gutted out, empty homes despite the health dangers of black mold, which nearly all homes in Rose City are now affected by.
Homes in Rose City were flooded after the Army Corp. of Engineers released the dams, which officials say was done in an effort to save other towns in the surrounding area.
"It's a disgrace that elderly families and veterans in lower-income neighborhoods in south Texas had their homes flooded and are now being denied the billions in relief pledged to help," Klein said.
Nearly all residents have been denied financial assistance from FEMA and American Red Cross, according to Rose City Mayor Bonnie Stephenson.
"Imagine telling an 83 year old woman who has lost everything and is living on a fixed-income of $600 a month that she gets no money to rebuild, simply because she couldn't afford flood insurance – which is as high $3,000 a year in Rose City," Klein added.
In a move that is unprecedented among non-profits, Klein has made his organization's bank statements available online to the public to prove transparency and show it is possible for donor's money to go exactly where they expect it to go.
"I'm fed up. Imagine if it was your grandparents still sleeping outside two months later?" Klein said. "We want donors to see that if they're donating to a 501c3 organization, it really is possible for 100% of the money to go to the help the people -- not overinflated budgets and unnecessary administration costs."
Klein also announced a new CAN-DO.ORG fundraising campaign for residents in Rose City – pledging that 100% of monetary donations will be converted into gift cards for each household to purchase building supplies.
"People need help now and this is the most efficient way to get funds directly into their hands so they can, at the very least, start to rebuild their homes."
In just 1 week since CAN-DO.ORG's donation challenge was announced on social media, they've tripled their total.
Klein and CAN-DO.ORG is also advocating on behalf of Rose City residents to FEMA and Government officials to release the federal assistance money for Rose City and other towns in the surrounding area who have been left behind.
###
ABOUT CAN-DO.ORG:
CAN-DO (Compassion into Action Network - Direct Outcome Organization) is a 501(c)(3) non-profit organization that donors can count on to get the job done. From natural disasters to humanitarian crises, we provide critical aid to communities who need it most in a timely and transparent manner. We are not tied down by politics or bureaucracy, and do not delay delivery of lifesaving resources by getting caught up in the red tape. We are dedicated to providing lasting, self-sustainable solutions for people facing some of the world's most critical problems. We go anywhere in the world and do whatever it takes to get the job done. 100% Accountability – ZERO Red-Tape.
Contact CAN-DO, info(at)can-do(dot)org
ABOUT ERIC KLEIN:
No one defies stereotypes or clichés about aid organizations more than Eric Klein, CEO and founder of CAN-DO.ORG. Klein has a long track record cutting through red-tape and producing lasting results in disaster stricken areas in the United States and around the world. Klein started CAN-DO.ORG in 2004, after being personally frustrated watching big-name organizations collect millions of dollars in donations, but not showing results. Fast forward 13 years, Klein hasn't slowed down. CAN-DO.ORG has since completed large-scale disaster and revitalization projects around the world, including after Hurricane Isaac, Katrina and Sandy in the United States, as well as in Rwanda, Haiti and other areas that are too often ignored. Klein's unique approach to humanitarian aid – which includes hiring locals and employing U.S. military veterans – produces rapid results and direct assistance to the people impacted, which unfortunately is rare after a disaster. Being transparent with donors is another key to Klein and CAN-DO.ORG's success. They provide direct access to real-time updates from the field, LIVE video streams and completion videos after the project wraps. His work continues to revolutionize the relief industry and is leading the movement to create sustainable social change. Klein has been featured on CNN, CNBC, People Magazine, Huffington Post, among other national and local media outlets. In 2008, Oprah Winfrey chose Klein as a contestant for her ABC primetime show, Oprah's Big Give – a reality program that challenged contestants to give away money in unique ways and become one of America's greatest unknown philanthropists. Later that year, Klein was awarded a Global Compassion Award at the United Nations for his achievements in international disaster relief efforts and humanitarian aid. In 2013, he was honored by his hometown in Massachusetts as one of the Legendary Locals of Salem, which archives in the town's records unique individuals who have made a memorable impact throughout history. He received a Heroes of Haiti award in 2010.
Contact ERIC KLEIN - ek(at)can-do(dot)org