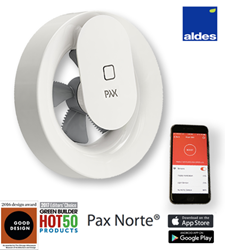 "Download the free PAX App, and get more settings, so your PAX works exactly how you want it to," states John Harrell, American Aldes President.
BRADENTON, Fla. (PRWEB) September 19, 2018
Ideal for small spaces, the PAX Smart Fan quickly and efficiently removes odors and humidity in your bathroom, bedroom or attached garage. With state-of-the-art control technology, the PAX from American Aldes, comes ready to connect and use right out of the box! The award-winning PAX is fully automatic with a continuous setting for constant ventilation, intermittent for spot ventilation, or a combination of both. "Download the free PAX App, and you get more settings, so that your PAX works exactly how you want it to, depending on your specific ventilation needs," states John Harrell, American Aldes President.
PAX is small, yet powerful, and can circulate up to 65 CFM of conditioned air while using only 4 watts of energy, to keep your energy bills low! The compact PAX is the perfect fan for mobile or tiny homes, garages, and even boats and motorhomes, too. With PAX's light and moisture sensors, its quiet operation, and simple through-the-wall installation, improving your indoor air quality has never been easier or cooler. Plus, since each PAX has its own unique identity that you assign, hundreds of PAX fans can be controlled independently from a single smart phone or tablet. "This makes the PAX Smart Fan from American Aldes the best choice for hotels, apartments, or student housing applications," adds John Harrell.
To learn more about the PAX Fan and other smart ventilation products from American Aldes, visit https://aldes.us/residential-ventilation-product/pax-norte-smart-fan/
American Aldes is the premier manufacturer of ventilation products and systems for homes, multi-family dwellings, hotels, schools, and numerous other residential and commercial applications. From automatic airflow controls to advanced heat and energy recovery ventilators, American Aldes ventilation products can be found in tens of thousands of high-performing homes and buildings across the United States. http://www.aldes.us
Visit us on Facebook, LinkedIn, YouTube & Twitter.
#american_aldes #PaxSmartFan #energyefficient #multifamily #ventilation #indoorairquality #IAQ #Pax #SmartFan #Coolventilation #CoolFan #SmartVentilation #HealthyLiving #AldesIAQ #AmericanldesIAQ