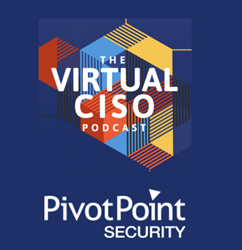 HAMILTON, N.J. (PRWEB) April 07, 2020
Is a Virtual CIO (vCIO) the right support for your business in these challenging times, and going forward? How is a vCIO different from a traditional MSP or IT consultant? How do you know if you need a vCIO, and what should you expect from one?
To address these increasingly urgent questions, Pivot Point Security CISO and Managing Partner, John Verry, speaks with Darek Hahn, president and CEO at VelocIT and a thought leader in the vCIO space in this latest episode of "The Virtual CISO Podcast".
Many MSPs offer some flavor of vCIO support—but is it the flavor you need? According to Darek, "… the CIO is a business person, not a technical person. We have too many technical people acting as CIOs."
This podcast episode delivers fresh insight across a range of topics, including:

The role of the CIO versus a CTO or traditional managed services consultant
How to tell if you need a vCIO
What qualities to look for (and what to avoid) in a CIO or vCIO
If you're considering changes in how your firm is handling IT, especially now when the pressure is on and making the right moves quickly is all-important, this podcast is guaranteed to give you a valuable new perspective to guide next steps.
To access this episode and a fast-growing slate of others in Pivot Point Security's Virtual CISO podcast series anytime, visit this page.
About Pivot Point Security
Since 2001, Pivot Point Security has been helping organizations understand and effectively manage their information security risk. We work as a logical extension of your team to simplify the complexities of security and compliance. We're where to turn—when InfoSec gets challenging.