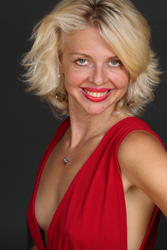 Everone is always looking at my mouth.
NEW YORK (PRWEB) May 06, 2021
Comedian Karlous Miller (Wild 'n Out), social media personality Brittany Broski (Kombucha Girl) and musical artist Kellie Sweet (YouTube vlogger) try to figure out April Brucker's secret on the latest episode of MTV's "What's My Secret?"
The only clue that April offers the hosts is, "Everyone is always looking at my mouth."
Now in its third season, "What's My Secret?" is an MTV original digital production featuring contestants with bizarre, quirky and unusual skills.
Brittany Broski says, "April, is this appropriate?" Karlous asks, "Do you do this with someone?" Kellie Sweet says, "We need a clue!"
One astute viewer posted a clue online: "Wasn't April on 'My Strange Addiction'?"
April Brucker has appeared not only on TLC's "My Strange Addiction," but also ABC's "What Would You Do?" and many other television shows, including "Entertainment Tonight," "Inside Edition," "The Layover," "Today," "Videos After Dark" and "The Wendy Williams Show."
Karlous asks, "Do you swallow something? Respectfully, respectfully!" Kellie tells Karlous, "I think you crossed the line," but Karlous says, "I'm ready to guess."
When April reveals her secret, Brittany remarks, "That was everything I needed and more."
April's sassy skill revealed on "What's My Secret?" recently landed her the role of special guest star in BurlesQ, an all-female revue currently performing for sold-out audiences at Alexis Park Resort Las Vegas, Thursday to Sunday at 9:30 p.m.
April Brucker earned her Bachelor of Fine Arts Degree in Acting at New York University's Tisch School and was awarded a Master of Fine Arts Degree in Creative Writing & Screenwriting from Antioch University Los Angeles. In her recently published book, "Don't Read My Lips," April Brucker reveals the secrets to her special skills and showbiz success.
Watch this latest episode of "What's My Secret?" online at YouTube.
Fans can connect with April Brucker on Facebook, Instagram, TikTok, Twitter and YouTube, plus at her official website http://www.AprilBrucker.TV.