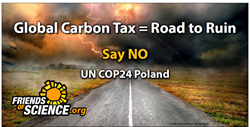 to survive as a nation, Canada must withdraw from Paris Agreement and repeal existing climate and energy policies, tainted by foreign influence.
CALGARY, Alberta (PRWEB) December 13, 2018
The National Observer reported on Dec. 10, 2018, that Canada's Catherine McKenna is proposing to enshrine climate targets in law, a measure pushed by some 33 groups who demand more accountability on Paris Agreement, but Friends of Science says, that to survive as a nation, Canada must withdraw from the COP21 Paris Agreement and repeal existing climate and energy policies, tainted by foreign influence.
Friends of Science Society says Canada is competing in the "OILympics" and no competitor nation is so bound by climate change legislation. They frame it as a Green Trade War.
Referring to a commentary by energy policy expert Robert Lyman of Aug. 17, 2017, entitled "Climate Change Policy and Confederation," Friends of Science Society points out that regional disparities are exacerbated by the Paris Agreement and its unattainable targets.
LINK: blog.friendsofscience.org/2017/08/17/climate-change-policy-and-confederation/
Many of the latest climate and energy policies were instituted by the lobbying of foreign-funded environmental groups, many of which are also tax-subsidized through their charitable status. Friends of Science described the damaging impact of some of these groups in post of Oct. 12, 2018
While ENGOs call for a carbon tax and climate target laws, Sabrina Kim, issues manager with Environment Canada claimed in a National Post article of Dec. 10, 2018, that upcoming court challenges to Canada's existing carbon tax legislation would be based on 'science and evidence."
Friends of Science says the scientific evidence shows that carbon dioxide is not a control knob that can fine tune climate. Carbon taxes have virtually no effect on reducing global warming, as outlined in their brief to Prime Minister Trudeau of July 18, 2018.
LINK: blog.friendsofscience.org/2018/07/18/climate-change-policies-and-carbon-taxes-a-brief-for-the-prime-minister-of-canada/
The Canadian 'climate catastrophe' scenario has been largely driven by foreign-funding by foundations associated with the ClimateWorks Foundation, as detailed in the ClimateWorks Podesta Wikileaks, Matthew Nisbet's 2018 paper on Strategic Philanthropy, and the detailed research of Vivian Krause on the "Tar Sands Campaign." These foreign billionaires want to stake out a global cap and trade program and have spent >$600 million a year for a decade worldwide, denigrating oil, natural gas and coal, and trampling domestic sovereignty by funding local environment groups to agitate for climate and energy policies that would benefit foreign vested interests.
Friends of Science Society says investors are "In the Dark on Renewables" and have issued a rebuttal to recent Deloitte Insights and Climate Reality reports.
To heal the nation of Canada and jump start the economy, these foreign-influenced climate and energy policies must be repealed, says Friends of Science, and Canada must withdraw from the Paris Agreement immediately.
Since the Paris Agreement is voluntary and non-binding, it is contrary to national interests to have foreign-funded activist groups push for national binding legislation.
The IPCC reports are based on faulty premises and exaggerated computer simulations, including a near-impossible extreme worst case scenario (RCP8.5). Activist groups and the news media use this scenario as a scare tactic. Friends of Science called for a retraction of the IPCC's SR15 report in an open letter of Nov. 28, 2018
Faulty Premises = Poor Public Policy on Climate, explains Friends of Science in this report.
About
Friends of Science Society is an independent group of earth, atmospheric and solar scientists, engineers, and citizens who are celebrating its 16th year of offering climate science insights. After a thorough review of a broad spectrum of literature on climate change, Friends of Science Society has concluded that the sun is the main driver of climate change, not carbon dioxide (CO2).
Friends of Science Society
P.O. Box 23167, Mission P.O.
Calgary, Alberta
Canada T2S 3B1
Toll-free Telephone: 1-888-789-9597
Web: friendsofscience.org
E-mail: contact(at)friendsofscience(dot)org
Web: climatechange101.ca