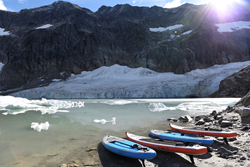 Just last week, our staff saw a pod of orcas swimming by, right outside our dining room. It's true to nature experiences like these that make Sonora Resort and British Columbia a magical place to visit.
SONORA ISLAND, British Columbia (PRWEB) April 30, 2019
British Columbia's Sonora Resort, a Relais & Chateâux wilderness retreat located on the edge of the Great Bear Rainforest, is ready to welcome guests for its 17th season starting Wednesday, May 1, 2019. New initiatives this year include helicopter adventure touring deep in the remote wilderness and a sea lion viewing platform, and our sharp focus and commitment to sustainable seafood continues.
"Spring has arrived on the West Coast and so have the wildlife," says Sean Ross, president and COO of Sonora Resort. "Just last week, our staff saw a pod of orcas swimming by, right outside our dining room. It's true to nature experiences like these that make Sonora Resort and British Columbia a magical place to visit. We are excited for our 2019 season to start, and for our guests to start experiencing some thrilling new activities."
Sonora Resort has partnered with local company 49 North Helicopters to offer guests some bucket-list, adventures with a helicopter ride through British Columbia's coastal mountain range. Options include the Heli Glacier Paddle, where guests are flown to a remote glacier lake to kayak or stand-up paddleboard with a certified Paddle Canada guide; Heli Hiking in the alpine zone, deep in the wilderness, with a hiking guide to witness high peaks, alpine meadows, and see the Pacific Ocean from above; and an all-ages Heli Glacier Walk at a remote glacier in Bute Inlet with a certified alpine guide.
"At Sonora Resort, we always want to create fresh and unique nature and wildlife experiences for our guests,' says Donna James, general manager of Sonora Resort. "Our glacier helicopter activity is one of our most popular. Therefore, we decided to build on this momentum by offering more helicoptering options. We just have so many awe-inspiring locations for guests to explore in our own backyard that is British Columbia."
On Sonora Island, a brand-new Discovery Islands Viewpoint, located on a resort hiking path, allows guests to sit and enjoy the scenery while watching sea lions play in the tidal waters.
In addition, executive chef Lukas Gurtner is expected to celebrate World Ocean's Day this June by featuring sustainable dishes with Pacific octopus.
Sonora Resort lies within the heart of the intimate ecological meeting place where the North Pacific waters touch the coastal rainforests of British Columbia. Visitors can only travel to Sonora by way of helicopter, sea plane, or boat. The resort welcomes guests from all over the world and is a proud member of Relais & Chateâux, Virtuoso Hotels & Resorts, Condé Nast Johansens, and Signature Travel Network.
For more information about Sonora Resort, please visit http://www.sonoraresort.com.
For more information about Relais & Chateâux, please visit http://www.relaischateaux.com.
About Sonora Resort
Sonora Island is located within the Great Bear Rainforest at the mouth of Bute Inlet, one of the deepest inlets in North America. Guests reach Sonora Resort by boat or air, approximately 50 minutes by private helicopter from Vancouver. Sonora is a Relais & Chateâux property and unique in the world because of its secluded location, abundance of natural beauty and wildlife, with luxury accommodations and gourmet cuisine. Sonora welcomes guests from May to October each year. The guided grizzly bear tours at the nearby Orford River are offered in partnership with the Homalco First Nation, from August to October. Additional Sonora Resort highlights include a tennis court, conservatory, and the Island Currents Spa with five treatment rooms including a Couple's massage room, outdoor hot and cold mineral pools, fitness facility and relaxation room. Sonora Resort has won several awards and accolades including being named to the prestigious Conde Nast Traveller UK Gold List in 2016 and the Conde Nast Traveler's Reader's Choice in 2018.
Sonora Resort | Sonora Island, British Columbia, Canada | sonoraresort.com | Instagram: @sonoraresort | Twitter: @sonoraresort | Facebook: sonoraresortcanada