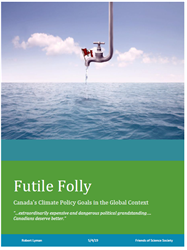 …extraordinarily expensive and dangerous political grandstanding…. Canadians deserve better.
CALGARY, Alberta (PRWEB) May 08, 2019
Ottawa energy policy consultant Robert Lyman is warning the Canadian public that present climate policies are nothing more than 'expensive and dangerous grandstanding' in a new report entitled "Futile Folly: Canada's Climate Policy Goals in the Global Context", issued by Friends of Science Society on May 5, 2019.
Many of Canada's current climate and energy policy goals have been driven by environmental groups funded by foreign billionaires in a project known as the Tar Sands Campaign, the consequences of which are outlined in recent Friends of Science reports posted in a compilation their blog.
Newly elected Premier Jason Kenney of the province of Alberta proclaimed the province is 'Open for Business" and has vowed to put a halt to this interference and to return investor confidence to Alberta, as reported by JWN Energy Group, April 24, 2019.
According to Robert Lyman's "Futile Folly" report, global greenhouse gas emissions are increasing, not declining. The source of those increases is primarily the economic growth occurring in the developing countries, not Canada.
Lyman points out that "Canadian emissions constitute a tiny percentage of global emissions; and the emissions reductions that the Intergovernmental Panel on Climate Change claims are necessary to avoid calamity are so large as to be impossible to meet in political, economic and technological terms."
As Canada struggles to meet Paris targets (which are presently voluntary and non-binding), the growth of emissions in the developing countries far exceeds the reduction in emissions in the OECD countries, and that growth is likely to continue, as the report details.
Lyman writes, "Many, if not most, developing countries will not honour their commitments at COP21, the United Nations Conference of the Parties on Climate Change in 2015, to reduce emissions; these commitments were political, not legal."
Robert Lyman notes that the reason for non-compliance is that the developing country commitments were partly contingent on massive funding by the OECD countries, which will not be provided.
In short, the policies now being followed by federal and provincial governments in Canada amount to extraordinarily expensive and dangerous political grandstanding that will have no offsetting global environmental benefit.
Friends of Science Society says Canadians should "Climate Change Your Mind" – offering their rebuttal report to the Canadian federal government's "Canada's Changing Climate Report 2019" (CCCR2019). According to Friends of Science, the government report is based on exaggerated computer simulations and not evidence, as outlined in their report of May 1, 2019, posted on their blog.
About
Friends of Science Society is an independent group of earth, atmospheric and solar scientists, engineers, and citizens who are celebrating its 16th year of offering climate science insights. After a thorough review of a broad spectrum of literature on climate change, Friends of Science Society has concluded that the sun is the main driver of climate change, not carbon dioxide (CO2).
Friends of Science Society
P.O. Box 23167, Mission P.O.
Calgary, Alberta
Canada T2S 3B1
Toll-free Telephone: 1-888-789-9597
Web: friendsofscience.org
E-mail: contact(at)friendsofscience(dot)org
Web: climatechange101.ca